Peripheral maker Razer sure doesn't do any resting on the proverbial laurels, that's for sure. Hot on the heels of the Razer Edge tablet, the company has a pair of stunningly thin gaming lappys ready for you to drool over.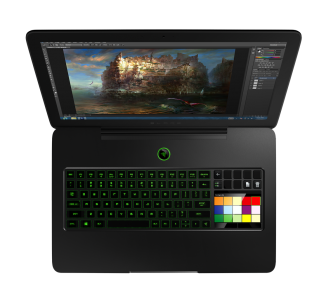 The all new Razer Blade is being touted as the thinnest gaming laptop ever, and I would have a hard time believing that it isn't. Cutting a profile at .88 inches thick (which is thinner than the diameter of a dime) and weighing in at 6.5 pounds, the Blade Pro is a 17″ laptop that's perfectly at home as a gaming rig and as a general use PC.
"With the Razer Blade Pro, we´ve designed a gaming laptop for work and for play – appealing toon-the-go hardcore gamers, game developers, creative artists and aspiring video professionals," says Min-Liang Tan, Razer co-founder, CEO and creative director. "The Razer Blade Pro can flawlessly run the most popular creative software applications, and is powerful enough to run the most graphically intensive games on the market today."
And he's not  just spouting hyperbole either. Here's the specs on this ultra-portable powerhouse:
Future 4th gen Intel® Core™ processor (formerly codename ´Haswell´)
8 GB DDR3L (2 x 4 GB 1600MHz)
NVIDIA® GeForce® GTX 765M (2GB GDDR5)& Intel HD4600
Windows 8 64 Bit
128 GB SSD, with optional 256/512 GB SSD (mSATA)
Qualcomm® Killer&trader; NIC N1202 (802.11a/b/g/n + Bluetooth® 4.0)
17.3-in. Full HD 16:9 Ratio, 1920 x 1080, with LED backlight
Stereo 2.0 speakers
3.5mm audio microphone/headphone combo jack
HD Webcam (front-facing, 2.0 MP)
Array microphones
(3x) USB 3.0 port (SuperSpeed)
Codec supports 7.1 (via HDMI 1.4)
Dolby® Home Theater® v4
Razer™ Anti-Ghosting Keyboard (with adjustable backlight)
Razer™ Switchblade User Interface
Razer™ Synapse 2.0 Enabled
Built-in 74Wh Rechargeable lithium ion polymer battery
Kensington Lock
16.8 in. / 427mm (Width) x 0.88 in. / 22.4mm (Height) x 10.9 in. / 277 mm (Depth)
6.58 lbs. / 2.98 kg
You'll be able to preorder the Blade Pro for $2299.00 USD on June 3rd.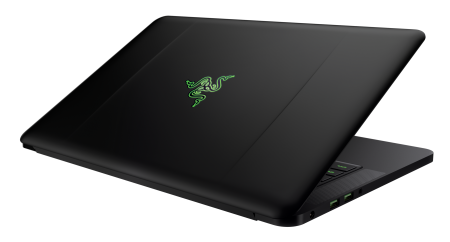 Also available is the standard Blade model which is pretty much the equal of the 'Pro', but a tad smaller at 14″ instead of 17″. I've used a smaller form factor laptop as my main PC in the past and really enjoyed having something that I could pop out of the dock and take just about everywhere. Honestly you can't really lose with the smaller Blade either.
The Blade (14″ model) is also preorder-able on June 3rd and will cost you $1799.00 USD. This one comes stocked with:
Future 4th gen Intel® Core&tradel processor (formerly codename ´Haswell´)
8 GB Onboard Memory (DDR3L – 1600 MHz)
NVIDIA® GeForce® GTX 765M (2 GB GDDR5) & Intel HD4600
Windows® 8 64 Bit
128 GB SSD, with optional 256/512 GB SSD (mSATA)
Qualcomm® Killer™ NIC N1202 (802.11a/b/g/n + Bluetooth® 4.0)
14.0 in. HD+ 16:9 Ratio, 1600 x 900, with LED backlight
Built-in stereo speakers
3.5 mm audio microphone/headphone combo jack
Array microphone
(3x) USB 3.0 port (SuperSpeed)
HDMI 1.4a audio and video output
Dolby® Home Theater® v4
7.1 Codec support (via HDMI)
Built-in full HD webcam (1.3 MP)
Compact 150 W Power Adapter
Built-in 70 Wh Rechargeable lithium ion polymer battery
Razer™ Anti-Ghosting Keyboard (with adjustable backlight)
Razer™ Synapse 2.0 Enabled
Kensington Lock
13.6 in. / 345 mm (Width) x 0.66 in. / 16.8 mm (Height) x 9.3 in. / 235 mm (Depth)
4.135 lbs. / 1.876 kg