Diamond Select has a ton of new stuff in stores this week; including collectables for Ghostbusters, Star Trek, Marvel Comics, Star Wars, and Back to the Future.
Yep, get your wallets out because DST has plenty on the shelves this week. There's something for (pretty much) everybody.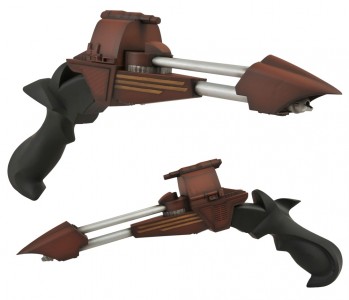 Star Trek Electronic Klingon Disruptor
At long last, DST adds a new item to their Star Trek role-play series! From the company that gave you screen-accurate phasers, communicators and tricorders comes the Klingon empire's most popular accessory: the disruptor! This legendary weapon comes with electronic lights and sounds, for the complete role-play experience. SRP: $60 (JUL121719)
Ghostbusters Slimer Silicone Gelatin Mold
Throwing a party at your local firehouse, fancy hotel or art museum? Why not make some room for a gelatin-based dessert? With this licensed Ghostbusters silicone mold, you'll be able to make a three-dimensional representation of Slimer out of tasty green (or any color) gelatin! Your edible, non-terminal repeating phantasm will measure 9″ by 5″ and will taste delicious! SRP: $14.99 (NOV121707)
Alice: Madness Returns Royal Suit Alice Select Figure

The hit toy line based on the game from EA and Spicy Horse continues with this special variant figure of Alice dressed in her "Royal" outfit! Only available to Previews customers, this 7-inch-scale figure is fully articulated and comes with a display base and accessories in oversized collector packaging. Designed and Sculpted by Gentle Giant! SRP: $24.99 (NOV121699)
Back to the Future Silicone Tray
Planning on making a scientific breakthrough? Breaking the time barrier? Asking your mom to the school dance? Then why not celebrate with a cool drink using your own Back to the Future ice cubes! This silicone rubber tray features various sized molds of the BTTF logo and the OUTATIME license plate, and can be used to make ice, gelatin or chocolate! SRP: $14.99 (SEP121670)
Star Wars Han Solo in Carbonite Magnetic Bottle Opener
After a long day of running down bounties, what better way to relax than to take off your helmet, kick up your heels and crack open a frosty bottle of Carbonite Cola? This solid metal bottle opener, depicting Han Solo frozen in Carbonite from "The Empire Strikes Back," measures 4 inches long and opens any bottle cap with ease. It even has magnets on the back so you can mount it on your refrigerator… or in your trophy room! Comes packaged in a collector's case with a full-color wrap. SRP: $18.00 (OCT121567)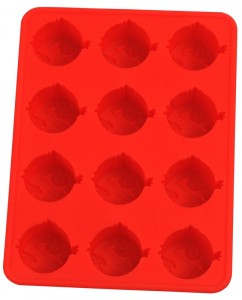 Ghostbusters Silicone Tray
When there's something strange living in your freezer, only one question comes to mind — where are you gonna get your ice? Be prepared for apocalypse (or your next party) with this silicone tray featuring the famous Ghostbusters logo. With the addition of the right ingredients and a working freezer dial, you can use this tray to make ice, gelatin and chocolate! SRP: $14.99 (OCT121573)
Marvel Minimates Strange Tales Box Set
It's the most spine-tingling Marvel Minimates set ever! Supernatural Marvel characters Dr. Strange, First Appearance Blade, Werewolf by Night and Morbius the Living Vampire have banded together to take on the strange and unusual corners of the Marvel Universe. Each Minimate stands 2 inches tall with 14 points of articulation and a variety of interchangeable parts and accessories. SRP: $19.99 (OCT121574)
On my own personal list of things I can't live without (this week)- I'm going with the Strange Tales Minimates (mainly because that origin Blade is awesome) and the Slimer mold. Come on, who doesn't need a Slimer mold? That thing's awesome! My picks aside, all this cool stuff is in specialty and comic shops this week from DST.