Yep, the seemingly unkillable Carnage is getting in on the 'Superior' act too.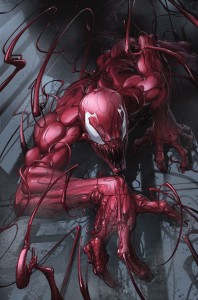 Serial killer and host for the Carnage symbiote, Cletus Kasady has basically been lobotomized by The Scarlet Spider. Now the former killer sits in a catatonic state in a mental institution. So the threat of Carnage is finally over right? Well…
Here's the thing; the other inmates of the asylum know full well who and what old Clete is, and they'd like nothing better than to have the beast back in action… not that that'd be all that healthy for them. Or anyone else for that matter.
"This is a Carnage story that will send shivers down the backs of anyone who reads it," explained Sana Amanat, Editor, Marvel Entertainment. "What Kevin and Stephen have planned for the character is unlike any Carnage story that's come before it, and surely will be one that will have fans demanding more of when it's all said and done. Want to know why people love Carnage so much? Jump on here."
Sana is talking about writer Kevin Shinick and artist Stephen Segovia in that statement there. Kevin has a definite plan for the character of Carnage and from the sound of things, it's going to be a little surprising for comic fans who think they know the deadly killer.
"I'm really excited to be working on Superior Carnage. It's very rare that you can say the words "Like you've never seen him before!" and truly mean it," explains Shinick. "But Stephen and I have been working on some great designs for what happens when the Wizard attempts to turn Carnage into an agent of evil the way the Avengers converted Venom for good! Plus now that Cletus Kasady has essentially been lobotomized, readers (and the Wizard) are going to encounter a monster very different from what they were expecting."
Superior Carnage #1 hits stands in July from Marvel Comics with a special cover by Clayton Crain. So who do you think will emerge from the shattered mental state of Carnage- the 'man' or the 'beast'? Which is which is debatable.