You probably already know that Activision's Skylanders series has been a massive hit for the company, but I'll guarantee that you didn't know it was this much of a juggernaut.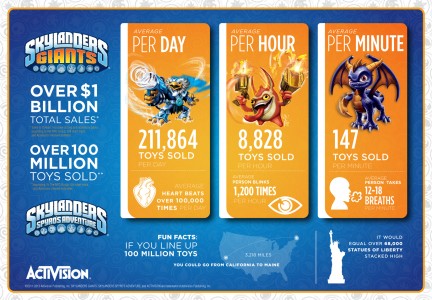 The franchise, which is still only about 15 months old, has already moved over 100 million toys at retail. Add up everything that the game's sold since Skylanders Spyro's Adventure was released and you get over one billion in sales. Yes. A billion. With a 'B'.
Further adding to that total will be Skylanders Swap Force (which we have a preview look at here). The third game in the series and follow-up to last year's Skylanders Giants will feature 16 brand new characters at launch that will have swappable torsos and legs.
Players can change up their character and customize their play style to the tune of 250 different variations and, of course, they can still use all their favorite characters as they're all still playable too. Look for Swap Force to arrive at retail this Fall, but in the meantime- just take a gander at the infographic above and take a moment to allow the 'amazing' that is the allure of this series to sink in.