One of the more elaborate special editions we've seen in a while is available now for preorder online.
If you're a big fan of the Dead Space series, or just a collector of awesome looking special editions of games, you're probably not going to want to miss this one.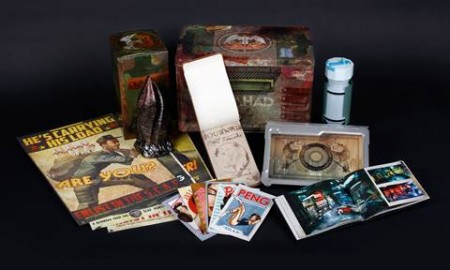 The Dev Team edition of Dead Space 3 sees EA and Visceral Games teaming with Treehouse Brand Stores to produce one very impressive collector's edition. The Dev (as in 'development') Team edition of DS3 (which is actually available with or without a copy of the game) loads up an art book, a 'journal', a replica marker, and a lot more into one very cool looking collector's tin.
Dead Space 3 Dev Team Edition includes:
Dead Space 3 Limited Edition (North America only): Includes the "First Contact" and "Witness the Truth" packs.
Tin Collector's Case: Measuring nearly 14"x9," this case is covered with mysteries and trivia from all three Dead Space games, debossed with full color art based on the designs from Ben Wanat (Creative Director for Dead Space 3) and Dino Ignacio (UI Designer for Dead Space 3).
Serrano's Journal: Dr. Earl Serrano's journal full of clues and haunting artwork of his findings on Tau Volantis has come to life with exclusive content by Chuck Beaver (Story Producer on Dead Space 3).
Art Book: A 4.75"x6.5" hardbound book containing 96 stunning full color pages, plus exclusive material from the Dead Space art department headed by Alex Muscat (Art Director for Dead Space 3).
Flip Book "Data Pad:" A 10"x7" book with a metal cover that contains 9 image sets made with clear PET cover sheets over heavy-weight cardstock. The flip book was designed by Dino Ignacio to be a functional prop version of the Dead Space User Interface in the game.
Marker Statue: A 8" hand-sculpted, custom-molded polyresin statue that's coated in metallic paints to replicate the maddening glyphs of the Black Marker.
Med-Pack: The med-pack in the game has been recreated as a 14 oz. PET water bottle, perfect for carrying your beverage of choice.
Poster Pack: A set of three 5"x10" single-sided posters replicating the nostalgic posters found throughout Dead Space 3 that depict an older age of space travel.
Postcard Set: A set of six 3.75"x6" Peng themed postcards, double-sided with art on the front and Dead Space-branded postcard information on the back.
"We're super excited to team-up with Treehouse and make something extra special for gamers that have been supporting us since the first Dead Space game," says Steve Papoutsis, VP and GM of Visceral Games. "We, as a development team, really wanted to put our personal touch on these exclusive items so that they feel authentic and meaningful to our passionate fan base."
With all that, you might be expecting a monster of a price tag too, but it's actually not all that expensive. Including a copy of Dead Space 3 with the package of goodies, the Dev Team edition will run you $160 USD (North America only). Buying one sans game means you're looking at just $100 USD, which is basically just subtracting out the cost of the game from the pack.
Off the top of my head, I can think of a pile of other CE's and SE's (or whatever else you might want to call them) that cost more (in some cases a lot more) and gave the buyer less to play around with. Overall, if you're a big Dead Space fan, there's a lot to like with the Dev Team Edition. And if you want in on a Dead Space 3 Dev Team edition, you need simply click here and head to the official page for the game. There you can order up your flavor of choice.
Dead Space 3 will be available on the PS3 and Xbox 360 on February 5th with demos on the way for January 22nd (Xbox) and 23rd (PS3).