Star Wars #1 from Dark Horse Comics has sold out its first printing in just 24 hours.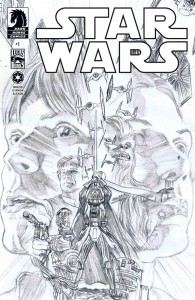 January is proving to be a hot month for Dark Horse as, much like Hellboy in Hell (which we reported on earlier), the company's newest take on the Star Wars universe has cleared the first run of its inventory.
This is Star Wars as you remember it . . . and as you have never seen it before! Dark Horse is taking you back to those heady, adventure-filled days following the destruction of the Death Star—when the Empire ruled, the Rebels were on the run, and the galaxy was a dangerous place where anything might happen!
The book is getting quite a bit of critical acclaim (including praise from us) and will be seeing a second printing that'll be arriving in stores on February 6th. But wait – there's more, because the publisher has also announced that a series of 'sketch' variant covers will be coming to market as well.
Done in a penciled style (check the pic), these covers will run through the first four issues of the book and will be tied into issues 4-7 and be released accordingly. The four covers will be direct reproductions of cover artist (and industry legend) Alex Ross' original sketch work.
Star Wars #1 is on sale now at comic shops everywhere (if you can still find a copy) and the variants are up for preorder as you read this. And if you want them in your collection, preordering might be a solid idea. You know, considering how fast the first issue went the way of the Jedi and all.