Valiant Comics will be getting in on Free Comic Book Day 2013 with a pair of offerings designed to get fans on board with the revitalized universe.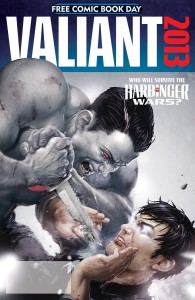 The first book will take an inside look at the highly anticipated first big crossover for the company – Harbinger Wars – while the second freebie will showcase tales about many of the staple heroes that call the Valiant U home.
First up, the critically acclaimed, best-selling comics launch of the decade throws it into high gear with the VALIANT 2013: HARBINGER WARS FCBD SPECIAL! Test your mettle with an exclusive look inside HARBINGER WARS – the blistering conflict between BLOODSHOT and HARBINGER that will crack the Valiant Universe in half. Plus – who will stand to oppose X-O MANOWAR on PLANET DEATH? What adventure lies beyond the horizon for ARCHER & ARMSTRONG? Who is the true heir to the legacy of the SHADOWMAN? And what top-secret projects could possibly be coming next? Featuring the art of Patrick Zircher, Cary Nord, Trevor Hairsine, Clayton Crain, Marko Djurdjevic and more, everything you need to know about the Valiant Universe in 2013 happens right here this Free Comic Book Day!

Then, dive deep into the greatest stories of the original Valiant Universe – remastered and collected together for the first time anywhere – with the VALIANT MASTERS: 2013 SHOWCASE EDITION! Relive the best-selling adventures of Valiant's definitive heroes – NINJAK, SHADOWMAN, ETERNAL WARRIOR and more – in this special FCBD release previewing the next year's worth of Valiant Masters hardcover collections. Featuring all-time classic work by some of comics' most celebrated creators, including Jim Shooter, Joe Quesada, Barry Windsor-Smith, David Lapham, Bob Layton and more, this is the perfect opportunity to discover how the Valiant Universe created a new generation of comics fans and became the stuff of legend.
Free Comic Book Day is May 4th, click right here for more info and what's on tap for the 2013 event.