If you aren't looking to head out into the Holiday crush this coming Friday, maybe a nice cosy afternoon filled with Dark Horse Comics Star Wars books might suit your fancy.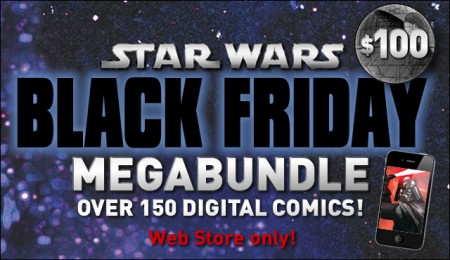 Starting Friday, you'll be able to get a whopping 150 Star Wars comics for only $100 USD- that's a savings of $370. Books like The Clone Wars, The Old Republic, Boba Fett, and two different Darth Maul series' are all included, so we're not talking just a bunch of toss-aways here either.
The sale starts at 12 midnight (PST- which would be 3am EST) on the 23rd and will run through Sunday the 25th on the Dark Horse Digital app on iOS, Android, or right in your web browser. Convenient – not a word that you usually associate with Black Friday.