Get ready for a whole lot of Fringe on Science Channel come November 20th.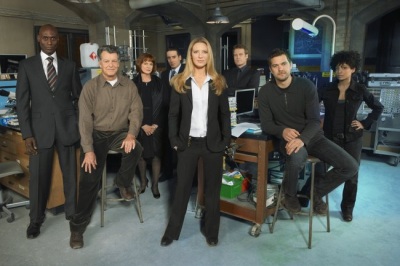 Science channel will air the complete 5 season run of the popular dimension hopping, sci-fi television show throughout the remainder of 2012 and 2013.
The pilot movie and first episode will air on Tuesday November 20th starting at 8pm (Eastern and Pacific). From there, you might want to get your DVR's ready because there'll be a pair of day long marathons of season 1 on Friday the 23rd (starting at 10:30am) and Saturday the 24th (starting at 11:30am).
Then after that, season 2 starts at what'll be the usual time for the show on Science- Tuesdays at 8pm. That begins on November 27th when the channel will air three episodes back-to-back-to-back each week. These won't just be weekly mini-marathons either because Science will be working in segments with luminaries like Michio Kaku and series stars like John Noble (who also hosts the excellent Dark Matters documentary series on the channel).
"Viewers tuning into FRINGE on Science Channel will see one of television's smartest and most addictive series in a more thought-provoking format than ever before," said Debbie Adler Myers, General Manager and Executive Vice President of Science Channel.  "Audiences will find all of the action and riveting drama associated with this pop culture sensation, along with a deeper dive into the mind-blowing science that provides the foundation for the series."
It sounds like just the ticket for fans as Fringe enters it's final season on Fox. Science does a great job with these re-airings as we just saw with the Firefly marathon on the 11th and Fringe should be no different. Science is really becoming quite the home for science fiction with its unique formats and supplements to shows.
More like this please.