Dark Horse Comics' revival of classic superhero Doctor Solar continues with a second collected edition that showcases a pair of intertwined stories.

I wasn't really all that familiar with Doctor Solar as a character when I started reading volume two of Dark Horse's version of the character. When I took a look back through history though (through the power of the internet!), I found he's had a pretty interesting 'life'.
First published by Gold Key Comics way back in 1962, the good doctor was created by Paul Newman (not that Paul Newman) and Matt Murphy and didn't even last 30 issues before his book was cancelled. The character reappeared in the '80s -but if you blinked you would have missed it- and then was licensed by Valiant Comics in the '90s to be integrated into the new universe that writer Jim Shooter was putting together.
Oddly enough, I was a fan of Valiant's line, but I didn't read more than an issue or two of Solar. It was a fair success, but it wasn't enough as Valiant was bought out by Acclaim (the videogame company!) before collapsing completely thanks to Acclaim's losses in the gaming industry. And then… nothing. For a while at least.
Finally, at Comic Con back in 2009, publisher Dark Horse announced that Doctor Solar would be making another return to comic pages. Jim Shooter would again take the reigns of the character (although it would be the original and not the rebooted Valiant version which was an almost totally different character) and produce a brand new series retelling the classic origin and bringing him into the modern age.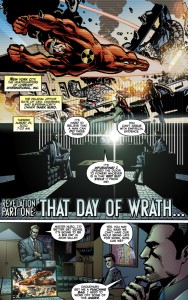 Like I said, interesting. Fortunately, Dark Horse Comics' reinvention of Doctor Solar is also pretty interesting.
Volume 2 introduces one of the classic Solar's main villains (Tanek Nuro) in a story titled Revelation. Now that's just the half of what you'll find in volume 2 because interwoven (every other chapter actually) in between the 'current' storyline is a flashback tale called Solar Rise  that tells the story of the actual (torturous) moments when Solar gets his powers.
Although they might seem independent of each other when you first hear how it's laid out, the two stories are directly related and play off each other quite well. Without giving too much away as far as the narrative, Nuro's origin is related to Solar's- tied right into it actually. And as you learn what the hero went through as the elemental forces of the universe itself open up to his manipulation, you get a deeper understanding of Nuro as well. Their abilities end up being pretty similar; think atomic versions of Wolverine and Sabertooth.
Shooter's script does the '60s version of Solar justice and brings him into the 2000's with a quality updating. The action is handled well with some great scenes and some pretty cool villains that I really would have liked to have seen more of. Since we're not talking about an ongoing series here though, most baddies last a single chapter or less. The perils of the limited series, or in this case the graphic novel.
The art chores are taken up by the trio of Roger Robinson, Agustin Alessio, and Diego Bernard. All their work comes across well although it does run the gamut of style and it can be just a little,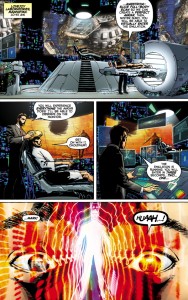 well… I don't want to say 'jarring', but that's probably the best I can come up with at the moment.
Robinson and Alessio's pencils make up the majority of the book and they're very different artists. Robinson has a more traditional hand while Alessio has a very detailed and almost painted look to it. Bernard is more in line with Robinson and has his work feature in in some of the last chapters. All three are good to great and each give Doctor Solar his classic look. They all have their good points (this is a pretty sharp looking book), but Bernard's art is probably the most 'comic book' of the three- which is definitely more the way I lean.
It's actually a shame that Doctor Solar didn't make it into a regular series, because there's a lot of really great ideas happening here. Yes it's superhero stuff, but the fact that it's mingled with Solar's origin tale really gives it a different feel when it's read all the way through as one big book. There's little to no 'action' in that half of the book by the way and it really is refreshing.
Paired with Alessio's work, it seems almost like you're taking a break, switching over, and reading a whole different comic for a bit. I can't think of another book that tells two seperate stories (although, like I said, they are linked) about one hero at the same time. It's really pretty cool.
Overall I really liked Doctor Solar: Man of the Atom. I have no history with the character and kind of always had a somewhat corny image of him in my head, but I was pleasantly surprised. There's action, super-powered showdowns, and some actual high concept stuff going on (google What the bleep Do We Know?! – you might get even more out of it) in Solar's life. Personally I'm hoping he gets another shot at a full run.