EA announces the release date for their third try at the Army of Two series.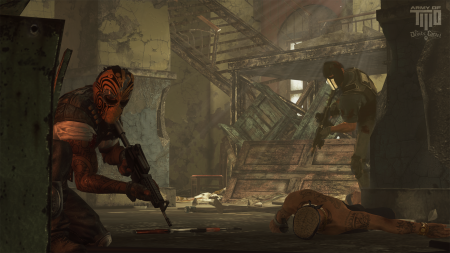 Army of Two is an interesting series, but not so much for the tale the storyline tells. I played the first title and thought it wasn't really that bad. Maybe a little generic, but not terrible. Unfortunately for AoT there were a lot of other folks who didn't share my opinion, and the game kind of took a beating. For that matter, so did the sequel… and I'm not really sure if anyone played the PSP entry.
Now fast forward to MArch of 2013 and a third console entry in the series is scheduled to hit the Xbox and PS3. Army of Two: The Devil's Cartel sets the pair of mercs to fighting a private war south of the border. For the newest game, EA and developer Visceral Games promise a big jump in action and a more serious, mature tone.
"With Army of TWO The Devil's Cartel we wanted to take the series in a new direction while also leveraging the aspects that made the first two Army of TWO games unique," said Julian Beak, Executive Producer, Visceral Games. "We knew coming out of the gate that meaningful co-op gameplay, customization and over-the-top action would be key pillars for us, and we're bringing these elements to the next level by presenting them in a setting that is more serious in order to dial up the intensity."
Visceral has also announced that a pre-order bonus in the form of a limited edition of the game is now available for order. Players who plunk down their pre-order greenbacks will get to take home Army of Two: The Devil's Cartel Overkill Edition on launch day. I don't know about 'overkill', but there are some nice little extra's in the box for you early birds.
Early Access to Three "Overkillers" Contracts: Unleash massive destruction with three Contract variations designed for maximum rampage! Players must kill enemies and cause environment destruction to earn enough points to continuously stay in Overkill while making their way to the extraction point.
Tactical Co-op Gear: Lay down sustained cover fire with the TAH-9 side arm while decked out in the polymer textured outfit and mask or wield the Double D automatic shotgun while battling in the intimidating Overkill mask and outfit.
Celebrate the Day of the Dead: Bust out the Day of the Dead themed assault rifle and take on Mexico's most ruthless drug lords in Day of the Dead themed outfit and masks designed by popular tattoo artists.
Enough to entice? If not, I'm sure we'll be seeing a lot more of The Devil's Cartel before the game officially drops for the Xbox 360 and PS3 on March 26th 2013.