AMC, Activision and developer Terminal Reality are teaming up to give dead fans a chance to win a role in the upcoming game – complete with a gruesome death!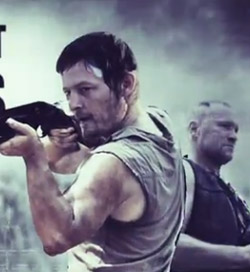 Really though, would it be The Walking Dead if there wasn't a gruesome death? Think people.
Titled The Walking Dead: Survival Instinct, the survival-horror game tracks a pair of brothers as they make their way across post-apocalyptic Georgia towards the 'safety' of Atlanta. Choice plays a big role in the game (as it does in Telltale's excellent graphic adventure take on the property) and helping the right people and avoiding the right combat situations will be just as important as slinging arrows through undead melons.
The contest is almost as deep as the game itself as players will have to pay close attention to clues on the television show and then enter them online in order to get chances to win. And winning, by the way, includes a lot more than having your likeness get munched and/or shot, because Terminal Reality will actually be crafting a unique story and in game character that'll be brandishing your mug. When they get munched and/or shot.
Clues are revealed during new episodes of The Walking Dead season three on Sunday nights at 9pm on AMC. Fans can enter the clues online at www.amcdead.comand each week one lucky winner will be chosen to appear as a character in the game! Terminal Reality will then use photos of his or her facial likeness to create a unique character whose backstory and chilling death scene may be encountered by players during The Walking Dead:Survival Instinct. As on the show, inquisitive survivors will be able to piece together how these characters lived before uncovering the scenes behind each of their horrific ends. Each contest winner will be hidden in a different level. There will even be a special challenge to track down all the winners. Every new episode between now and Sunday, December 2, 2012 offers a new chance to enter and win!
Hustle up and click here for more rules and such about the contest. Look for The Walking Dead: Survival Instinct to stalk the Xbox 360, PS3, and PC next year.