The newest pair of new Marvel Legends waves, just fleshed out this past weekend, have hit pre-order with a ton of Spidey and FF characters.
Fantastic
It's good to see the Fantastic Four back in Marvel Legends, for a wide release, and heading up their own wave of action figures. And I say that regardless of how you feel about the black costumes.
This is especially cool if you haven't been buying, or just couldn't find, the Walgreens exclusives releases. If you don't know what I'm talking about, Walgreens stores had exclusive figures of the entire core 4, plus Silver Surfer and Namor (and I think maybe one other figure). While those figures were cast in their classic suits, the new ML series of FF figures takes things in a more modern direction.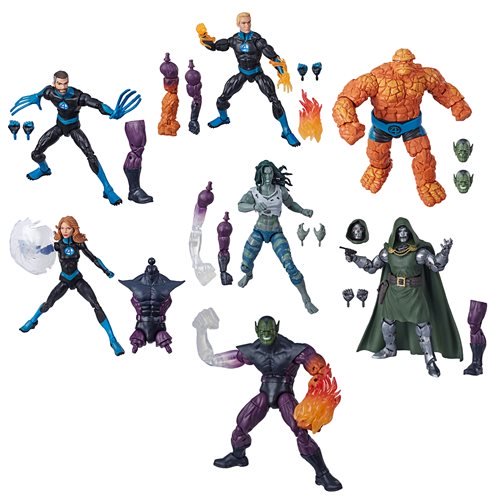 Right along with that is a semi-modern version of She Hulk, filling things out in her grey incarnation, and a new Johnny Storm. This time he's in his human form, which is radically different than the Walgreens version. And of course, there's a build-a-figure. The BaF for wave 1 of the FF figures is none other than Super Skrull too, so it's a nice classic addition to the line.
The figures are priced in at $21.99 USD each or $175.99 USD for a full case. Note what I said above, case. EE doesn't look to be selling 'sets' right now, just fun cases (and of course the separate figures).
The Demogoblin strikes
With what otherwise might be a somewhat niche-y series from Hasbro, they manage to add a BaF that pretty much every old school Spider-Man fan will want. By that, I mean the Demogoblin. The demon-infused version of the Hobgoblin, old Demo here is a must if you're assembling a Maximum Carnage display… or honestly even if you're just a really big fan of 90s Spider-Man.
As for the actual wave, yeah it's something of an acquired taste. There are two new Spidey suits present from the Spider-Man PS4 video game, Superior Octopus, the White Rabbit, the Vulture, and Shang Chi.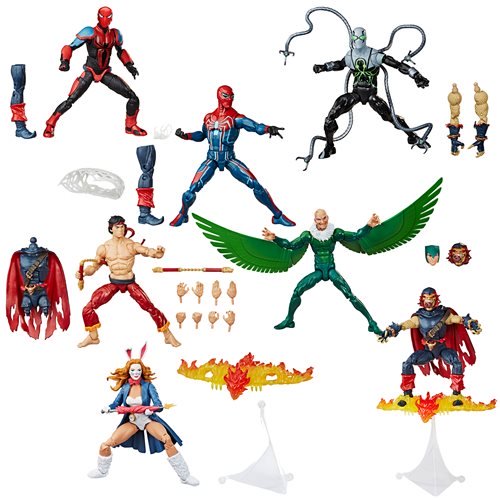 Vulture is long overdue for a new figure, and a classic villain too. So he's a great pick for this wave. Shang Chi is about to break out in a big screen film, so while I'm not into the character, I could see him too. The rest are kind of meh. Except for Demogoblin, who's freaking awesome and a real temptation for getting the whole series, even if you're not into all of the figures in it otherwise.
Same thing as above for these, they're all available singly, and as a full case assortment. And both the Spider-Man figures and the Fantastic Four wave are set to ship out in January 2020.
Hit the links above to pre-order, and if you do BG will receive a small commission from Entertainment Earth.