Internet retailer Entertainment Earth gets an exclusive set of Hoth-themed Star Wars Black figures this week, with Han Solo and Leia Organa.
Arctic blast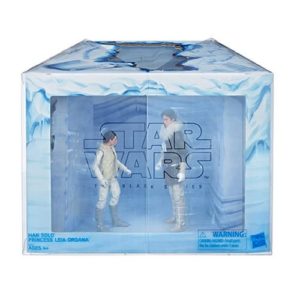 Unlike most toy lines, when there's a Star Wars release of characters in cold weather gear it actually makes sense. The icy planet Hoth was a fan favorite locale from The Empire Strikes Back after all. So there are probably few fans out there who are delighted to see this new exclusive set.
Sold nowhere but Entertainment Earth, The Black Series Hoth Princess Leia Organa and Han Solo set is looking pretty… cool. The boxed set includes both staple Star Wars heroes, plus appropriate accessories like blasters and goggles. Don't want that snow to get in your eyes, do you? You'll need them too, since even the packaging is "frozen" here. The set is locked away in a box that imitates the snowy corridors of the Rebellion's Hoth base.
Priced at $49.99 USD, you can pre-order one for yourself right now. You'll have a slight wait though, since it's not scheduled to actually arrive till next month. There isn't a more specific date to report just yet, but watch for it to hit exclusively on Entertainment Earth some time in December.