Captain America is about to start a fresh run over at Marvel Comics, and the publisher has brought in a legendary artist for a first issue variant. Joe Jusko will be bringing the Sentinel of Liberty to life this July.
Iconic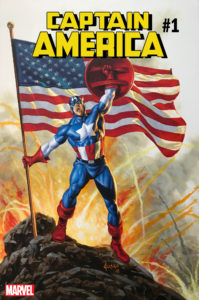 Cap is an icon of the industry. There's no arguing that point. The character has been around for decades, just celebrating his 700th issue thanks to Marvel's Legacy numbering. The new book, hitting in July, will be a continuation of that. It will still sport the Legacy numbers, but kick off a fresh adventure for Rogers.
There's been a fair bit of buzz from fans about the series-to-be, not all of it positive. But if there's one thing that pretty much all Cap fans can probably agree on, it's that this just announced variant cover from Joe Jusko is pretty amazing.
Long time fans should know Jusko well, particularly from his work in the early 90s. His Marvel Masterpiece works in particular, were flat out amazing. They basically all looked like this cover. This new piece from Jusko will apparently be leading to more as well. The artist will have a brand new set of Marvel Masterwork cards out some time soon.
For now though, this variant cover will have to tide you over. Captain America #1 will hit the stands on July 4th.