A mysterious woman resurfaces, leading the Visitor to a cult compound in the Southwest. Check out The Visitor: How And Why He Stayed #3.
You can find our coverage of #1 here, and #2 here.
Strange Sequences
The Visitor #3 opens up with the visitor halting what appears to be a ritual sacrifice to a god in a caveman-like era. He arrives, pulls out his mysterious tablet, and then the scene changes.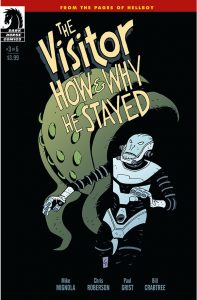 Who is he, and how long has he and his kind been investigating and surveying the Earth?
Jump back to 1978, and the visitor is making notes in his journal regarding Hellboy's progress. Hellboy is not yet ready to protect against something called the Three Hundred and Sixty Nine, but based on his trajectory, he will be.
Blast From The Past
Then the Visitor and Ruby hear a name on one of her daily soap operas that they did not expect to hear again. Ana Mireya Fierro. Apparently Fierro was associated with a cult that the visitor had led Hellboy and the BPRD to investigate. The assumption was that Fierro died in the scuffle, however evidence was never presented to confirm. Now the visitor has to find out what has really been going on.
Fierro is opening a new self help institute in Arizona, that would be a great place to start. During an introductory tour, the visitor has a chance to sneak away and snoop around. They are told that Fierro lives on the campus. Now he just has to figure out where, specifically.
He finds plenty of classroom activities, as is to be expected on such a campus. Behind those 'NO ADMITTANCE' doors however, is where the good stuff lies. Behind one such door lie two dozen bodies laid out as if prepared for a morgue. This is certainly not typical school activity. As trespassers typically are, he is found and chased off.
As our visitor is smarter than the typical hooligan, he manages to escape by going deeper into the institute. Through a door and what appears to be some caves, he comes upon Fierro herself. She is leading a group of nearly fifty of her cult followers in worshipping a mysterious demon statue.
Unlike Any Other
Not just anyone can barge in on such a cult session, let alone interrupt one. Fierro is telling her followers that the time to summon Zara-Hem is almost upon them, when the Visitor tells her it simply will not happen. Until another, (referencing Hellboy) is ready to protect this world against the likes of Fierro, he has taken the charge of protector upon himself.
The Visitor is able to stop Fierro and her followers. The authorities will chalk it up to another doomsday cult event. Stopping these attacks is taking a toll on him. He only needs to hold on a little while longer.
The Visitor: How And Why He Stayed #3
Writer: Mike Mignola, Chris Roberson
Artist: Paul Grist
Colorist: Bill Crabtree
Cover Artist: Paul Grist
Alien Interventions
Plot - 89%
Writing - 88%
Art - 75%
Our Visitor continues to lurk in the shadows, making sure fanatics do not destroy the world. He does not ask questions, nor negotiate. Though his time of protecting us is finite. See for yourself what sort of tricks he has up is sleeves in The Visitor: How And Why He Stayed #3.