Dig that throwback packaging. Not that you needed any further reason to buy more of Hasbro's awesome 40th Anniversary Star Wars Black figures.
A long time ago…
With the first wave out there right now, Hasbro's latest series' of Star Wars Black figures are flat out gorgeous. The 40th Anniversary line not only brings a bunch more of your favorite characters to 6″ scale, but it does it in style.
If you have yet to see the figures in person, then you should know that the packaging is what puts it over the top. It's crafted to look exactly like the original Kenner blister cards from the very first line of Star Wars toys, back in 1978. You know, just a little bigger since these are 6″ and the originals were 3.75″.
And man, is this some pretty stuff.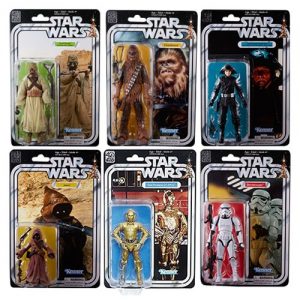 As you can see too, this new wave is loaded up with fan favorite characters. Not only do you get 3PO and Chewy, but a Jawa, basic Stormtrooper, Death Star trooper, and a freaking Sandperson included in the box too.
Entertainment Earth has this new wave posted right now, and pre-orderable here. Now, you will get a few doubles if you order a case, just to give you a heads up. They're not bad though, as you'll get an extra Jawa and Death Star trooper. I would have preferred a double Stormtrooper, but I can't complain too much about the case pack.
The whole set of 8 will run you $164.99 USD, and it'll be shipping out this June.