Blood-C: Demonic Moonlight, a prequel to the Blood series, comes to an epic conclusion with Volume 2. Envisioned in collaboration between CLAMP and Production I.G., Dark Horse Comics provides the English Translation.
The Blood franchise has developed quite a history in modern manga/anime. Starting off with a rare anime feature not based on a manga, Hiroyuki Kitakubo's Blood: The Last Vampire centers around Saya, a vampire hunter who also happens to have the blood of the Ancient Ones in her system.
Yeah, by no means an original story, actually Blood: The Last Vampire barely qualified as a film. Clocking in at 45 minutes, it's legacy belongs entirely to the animated visual splendor. Despite the lack of meat, audiences clearly yearned for more, leading to a manga continuation, anime spin-offs, video games and a live-action film.
Back to Basics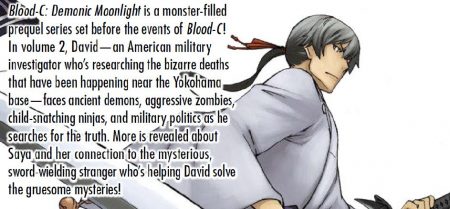 Blood-C: Demonic Moonlight's story fails to add much in the way of originality or intriguing. The plot amounts to a straightforward race against time to stop the demonic forces from entering the human realm. Fans of the franchise surely will not experience anything they did not anticipate in this prequel.
This does not mean there isn't any fun to be had in the material. On the contrary, the simplistic story delivers a fair amount of thrills per second. Fan-favourite characters (Saya, David and Tadayoshi) continue to deliver the banter, angst and entertainment associated with the franchise, despite a lack of tension surrounding their narratives. As the best of prequels, there is a genuine attempt to fledge out the back-story of each one of these characters. And while some depth is added, not enough surprises can be found here.
Over the 176 pages, Demonic Moonlight twists and turns enough to avoid descending into monotony. Even if merely a change in monster design, powerhouse manga forces CLAMP and Production I.G. know well enough that a successful action story needs to be a rollercoaster ride. Unfortunately, most people have already ridden this particular ride a few dozen times.
Ryo Haduki – Blood-C: Demonic Moonlight's VIP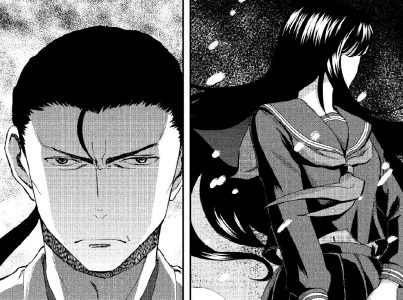 Ryo Haduki's art style captures the spirit of Blood amazingly. I would go as far as to say that he lifts the mediocre story to a level that flirts with greatness.
The precision to detail shown for the characters and, especially, the design of the demons add weight to every slash of the sword and hit taken by the heroes. He never failed to leave me without a sense of awe whenever the Ancient Ones marched into a panel.
Conclusion
Blood-C: Demonic Moonlight reaches the standard set by most of the franchise: Come for the action, stay for the visuals and shrug at the story.
It should be noted that this manga originally released in 2012, in Japan.
Very much a Blood Manga
Art - 80%
Plot - 50%
Action - 75%
Ryo Haduki's Art sparks to life a rather tired narrative.