Already including the modern movie version of the Man of Steel, Mezco Toyz' One:12 Collection adds a true classic to its ranks with a comic book edition Superman.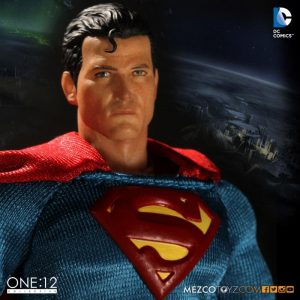 Cast in his classic red and blue outfit (with just a bit of yellow), Kal-El is ready to knock some heads together. And making things even better (depending on which side of the aisle you stand on), this is the pre-New52 Man of Tomorrow. Complete with red shorts and no collar.
If you're familiar with One:12 as a line, then you know the rest of this story. Superman has 32 points of articulation, a real cloth costume (that actually fits right), and a bunch of accessories. There's some really neat stuff in this collector-friendly box too. How do magnetic bullet-richochets and cape-posing clips sound?
Yep, there's a good chance that this one will look pretty awesome in the old DC collection. Here's what's in the box:
Hyper-realistic facial sculpt
Real fabric uniform and cape
Sculpted chest logo and belt
Included with this figure:
Standard portrait
Alternate portrait
Fists (L & R)
Flying hands (L & R)
Posing hands (L & R)
Bottled City Of Kandor
Set of 2 posable chains
Kryptonite meteorite
Ricocheting bullet effect (attaches magnetically to chest logo)
Display base with posing post
Cape posing clip (attaches to the posing post)
Chain posing clip (attaches to the posing post)
The last son of Krypton ships out in the November – January timeframe.