Who would have thought that Thanos of Titan would lend a hand, helping you stow away some cash? Well, Previews apparently, as they're about to debut their newest bank, modeled after the noggin of the Mad Titan himself.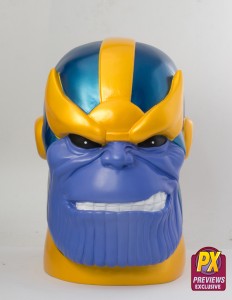 If you remember Previews' Deadpool bank/head from a few months back, then you've got the idea as to what's on hand here. The cranium of Marvel Comics villain (and soon to be movie star) Thanos of Titan is large, in charge, and ready to stow your coins.
Hailing from the talented folks at Monogram and measuring 10″ tall, Thanos sports his usual smarmy grin and has a slit at the back of his head where you can deposit your coinage. Ready to cash out and go buy that Infinity Gauntlet you've had your eye on? Then just pop open the plug on his neck and away you go!
Thanos is scheduled to be available in mid-November, and is available for pre-order right now via the September Previews magalog, which is in just about every comics shop on Earth.