Ubisoft's latest volume of toy-on-toy combat includes some more familiar faces (Hint- COBRAAAAAAA).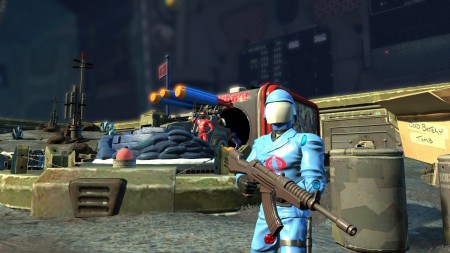 Yes, G.I. Joe's number one (only?) nemesis Cobra is joining the action figure onslaught alongside He-Man and the Masters of the Universe and that aforementioned Real American Hero. Taking control of Cobra Commander, you'll lead armies of Cobra troopers that (from the screenshots anyway) look to contain Vipers and Crimson Guardsmen at the very least.
I did say there were two new factions though, and completing that is Ezio and his Assassin's Brotherhood from Assassin's Creed. It is a little odd that a video game property would be joining a game that's seemingly all about toys, but what the hey, they look kind of cool anyway. And it would be sort of cool to have the Assassins take on Cobra.
Which you'll be able to do when Toy Soldiers: War Chest hits the PS4, Xbox One, and PC later this Summer in both standard and Hall of Fame editions.