Alphabear from Spryfox is an adorable, fun to play word builder.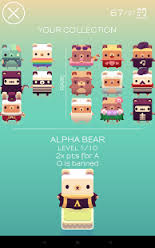 Upon opening the game you are immediately introduced to the game's simple, yet rewarding mechanic. Simply make words from the letters you are given. Sounds easy right?
Well not as much, for every turn that passes the unused letters will eventually turn into rocks which obstruct the player, the rocks will stop the bear from getting bigger. The game will end as soon as no more words can be made. At the end of the game you are rewarded additional points for how many bears you have made, the bigger the bear the more points you are awarded.
When you select a new level you are given the option to use 'special' bears which award you with bonuses, these will help you when you become stuck wihin the game. As you begin to clear the board and less and less words are available, you begin to feel panic and you can see the cute bears begin to panic too, as they know they will not grow any bigger. The artwork is simple, and yet so visually striking it really gives the game a popping effect on the screen. As of playing it, I have experienced no delay or anything, which is nice for a game which is so visually pleasing.
Final Thoughts
Micro transactions exist in the otherwise free game as honeycomb. The offerings in the store range from watching a video, to earning 50 honey, to paying £3.99 to get unlimited honey, which for such a pleasing game I am ashamed in admitting that I am considering. As most mobile games are after an hour of playing, I had hit a point where I had to wait for honeycomb to amass, which is a shame but not game breaking none the less.
You can get a feel for the game below:

Have you played this game yet? Let me know what you think here