Writer Greg Rucka will bring a whole new tale of sword and sorcery to the realm of BioWare's Dragon Age series with Dragon Age: Magekiller, a brand new and in-canon comic book series set in Thedas.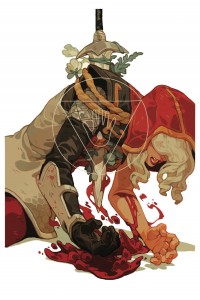 Looks painful.
Getting impaled is probably not all that much fun, but Dragon Age: Magekiller stands a good chance of being something that fans of the game franchise from BioWare will definitely want to check out. Launching this coming December, the series tells a story that runs parallel to the events shown in last year's video game entry, Dragon Age: Inquisition.
Two new characters named Tessa and Marius will star in the series, both of whom are mercenaries who're out for the blood of anyone using Blood Magic. Problems arise in their little partnership when their next employer turns out to be more than they'd thought.
"I think the effort that Bioware has consistently put into every on of their roleplaying games—we can talk about Mass Effect, we can talk about Dragon Age, we can talk about Jade Empire, you can go down the list—is really stunning," Rucka told Polygon. "I know with Dragon Age in particular, we're talking about a fantasy setting that is probably one of the most fully and beautifully realized examples of world building that we've seen."
Rucka has been around the comics world for ages and helped build out some pretty impressive worlds himself. Working on classic books from Wolverine to Action Comics, he's a mainstay who's work has constantly attracted readers, so I have to imagine that he'll bring quite a bit to the medieval fantasy world that BioWare created.
Joining him will be Carmen Carnero and Sachin Teng, who'll be doing the cover art. And as you can see, that art is pretty awesome. Expect to see the first issue of Dragon Age: Magekiller on the racks this coming December the 16th.