Dark Horse's newest foray into the world of horror and the supernatural comes along with one of the most interesting main character's and plot lines that I've read pretty much ever. This is Negative Space.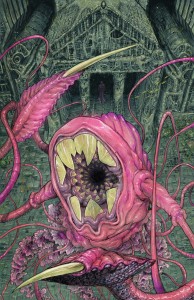 I'm going to try and keep this as spoiler-free as possible, but some things just need to be mentioned in order to convey the feel and more shocking elements of the story, so bear with me. In short though, I loved Negative Space.
Things in this book aren't quite as they seem, and they get ever stranger as we conclude the issue. Starting things off though, we meet Guy. A down on his luck writer, Guy is incredibly depressed, and I mean that in the clinical sense.
Overweight and without anyone in his life, Guy is as down as a person can be, and he's made up his mind that he's going to take his own life. Yes, it's that bad. I also want to stress here that there's nothing funny or witty about this, he's really planning on killing himself and it's as seriously done as anything.
Actually it's a really downbeat opening to the tale.
Warning: The next three paragraphs are very spoilery
Here's the thing though; there's more at play that just Guy's overarching sadness. In fact, there's something pulling him towards that. Yanking him ever closer and closer still to the edge, and then getting ready to give him a shove over it is a mysterious group of people who you will not like.
This group trades in human suffering and negative emotions from behind the scenes, pulling the strings on countless people and driving them to an early grave. Why? Because of the hideous creatures pulling their strings called the Evorah. And basically, that's one on the cover. They feed on human emotion, especially those from an empath, which Guy is.
Empaths are people who can detect emotion in others and sense it, which is why Guy's death is so desired by the Evorah and those in Kindred Tower, who are selling out humanity on a daily basis. In a nutshell, that's the story behind Negative Space, and it comes off pretty phenomenal.
Okay, that's about it for the heavy spoilers.
Not only does Ryan K. Lindsay's script flow beautifully, but it paints a stark duality between the world as the human race on the whole sees it, and the 'reality' that's hidden right in front of their eyes. And Guy is about as far from the prototypical hero as you can get, but he comes across as an everyman who has moments of shining brilliance here and there, moments that I assume will expand as we get deeper into the story, which really explodes with a bit of a shocker at the last page.
That might be the one nitpick I have with the first issue of Negative Space, There's very little in the way of exposition as to the main story, and a lot of time spent on Guy's everyday life and where he is in it. I totally understand why Lindsay chose to take this route, it sets things up well going forward, but it's somewhat of an aggravation nonetheless as I wanted  more about the main villains. Overall though, I don't know if that's a bad thing, because Negative Space has already puled me in for issue #2.
Framing all this, by the way, is Owen Gieni's artwork which screams of a gritty urbanity that you don't see in comics that much anymore… if you ever did really. His work, as you can see from the previews is stretched more than a little here too, as the artist renders both the mundane and the fantastic with the Evorah, which we really only get a glimpse of here.
Final Thoughts
This was a terrific read and a fantastic surprise that I didn't really even know anything about prior to cracking it open for this review. I'm glad I did though, as it's a story that seems to have a ton going on and issue #1 left me seriously wanting to know more about what's really happening in Guy's world.
With offbeat, but excellent artwork and fantastic writing, Negative Space is a book that no fan of high strangeness and weirdo horror should go without at least checking out.