It's a batarang, it's a letter opener- stop, you're both right! Oh, and it's awesome too.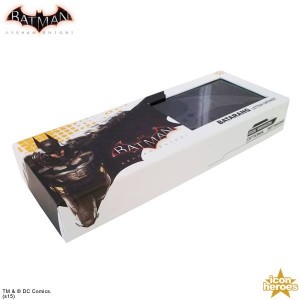 "You've just received the final clue in the Riddler's latest larcenous plot… but how to open it without triggering any booby traps the felonious fiend may have secreted inside? Reach for your utility belt and withdraw the Arkham Knight Batarang Letter Opener! Based on the actual 3-D files from the newest Arkham Knight blockbuster, this lightweight metal replica measures 7"L x 2"W x 0.4"H With this piece of the Arkham arsenal on your desk, they'll be no doubt in your office who owns the night!"
I'm a big fan of what Icon Heroes does. They've got some of the coolest Masters of the Universe stuff around with their Castle Greyskull and Snake Mountain diorama's and now they're expanding into some interest gin new areas with their superhero licenses.
In the last few weeks, we've seen an impressive lineup of bookends from the company, and now they're delivered a Batman collectible that's really pretty sweet. Hailing directly from the Batman: Arkham Knight video game (which is soon to be released by Warner Bros and Rocksteady), is the batarang letter-opener.
This badass little piece of memorabilia can pop open your letters with ease and, as you can see above, is as direct from the game as you can get. It's got a nice little padded box too, so it should look pretty neat on your shelf as well, just in case you don't actually, you know, get letters anymore.
The Arkham Knight batarang goes on sale this May. Click here for more info.