A political sim that's both funny and engaging, if just a bit of a one-trick pony.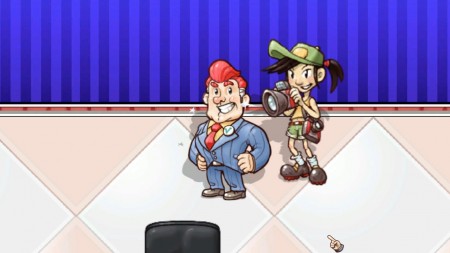 Citizens of Earth is a 2D RPG developed by Eden Industries and published by Atlus U.S.A., Inc. The game is being released on multiple platforms, so if you're not a PC gamer, you can still play on your console or handheld device.
In this game, you take on the role of the Vice President of the World (or whatever name you choose to call yourself). The graphics are cartoony and the storyline is downright hilarious. The game starts out with the leader of the opposition (a.k.a. the man who lost the election for Vice President of the World to you, the night before) staging protests in your town.
As you progress through the storyline, you can recruit characters that you encounter to join your party, including your mother, your brother (who works for FedUps), conspiracy theorists, and even wacky baristas. Every non-generic character in the game is recruitable, but involves a 'side-quest' to be able to recruit them. You're going to want to get them on your team too, since having different types of characters in your party increases specific stats when other members of your party level up. Stats include agility, HP, defense, etc.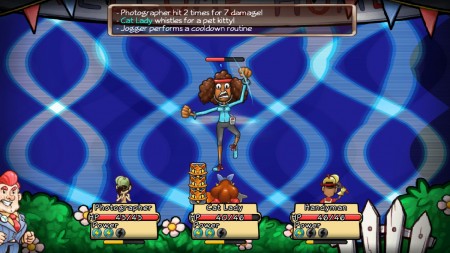 There is a combat component to this game; done in a turn-based, 'Pokémon-style' way. For starters, you have to fight off the picketers and hippies to get the opposition leader to put an end to his protest. An attack, for example, is Scold, which involves your mother doing exactly that, which in turn decreases your foes defense stat. You can even ask for 'motherly advice' in combat, if you're having trouble and/or are new to this combat style.
The combat messages are very cleverly written, with things like "Conspiracy Guy savagely accuses Java Beanhemoth of a cover up," and "Mom seamlessly delivers a scolding and a guilt trip!" As you might be able to tell, the most notable feature of this game is its humor. It's the perfect game to play after a long day at the office, or something along those lines.
There is a total of 50 achievements in the game, so it's perfect for the over-achiever, who must unlock them all! The game also offers controller support, and with a game like this, the main benefits of keyboard and mouse are nullified. Normally Citizens of Earth is $16.99 (CAD), but is currently 20% off for the launch, and will remain on sale for the full week of release, which concludes tomorrow, on January 27th, 2015.
Final Thoughts
All in all, Citizens of Earth is a really funny game, and one I would recommend to anyone with who enjoys a good laugh.
In terms of gameplay and mechanics, the game doesn't introduce a lot of new ideas. The music does get somewhat annoying over time as well, but you can always just mute it (Yay for settings!). I am going to rate this game a 6.5/10. Part of this is for the price; $17 seems a bit steep since you're most likely only going to play through the story once, maybe twice. Also, although amusing, the combat is nothing special, and sometimes the controls can feel a bit clunky.