Mortal Kombat is back in the toy aisles and looking pretty fantastic thanks to Mezco.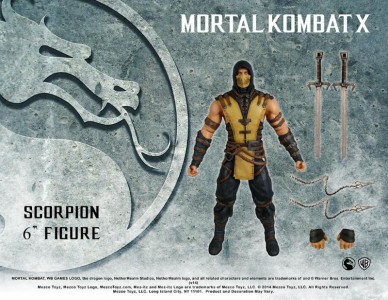 Mezco is working up a pretty fantastic little catalog of licenses and lines, and Mortal Kombat might be the crown jewel. MK, of course, is not exactly new to the realm of action figures and has appeared in plastic multiple times in the 90s and 2000's. Palisades Toys and even Hasbro has worked with the license before, though it was always missing something and never really clicked for anyone as far as I can remember, and I had a bunch of different ones.
Maybe that's why I'm so excited about Mezco's offerings, the first two of which are shown here. Scorpion and Sub Zero start off the new line for he company, which is based on the forthcoming (and uber-violent) MKX, which will be hitting consoles next year.
Both figures look pretty awesome and stand in at 6″ tall with multiple, game accurate, accessories. Scorpion, the specter looking for justice for his fallen clan, has a whopping 23 points of articulation, and has ball-joints wherever the sculptors could get them in "allowing him to recreate all the moves and poses that have made him part of gaming legend."
Sub Zero has a bit less in the way of articulation, with 17 points, but nonetheless has the same ball-jointing. Both characters come with appropriate accessories as well, like Scorpion's spear and twin-swords, and Subby's ice hammer and blade. The first in the series to be officially announced, Scorpion and Sub Zero will be in stores and representing Mortal Kombat X this coming June.