Sega's Company of Heroes sequel is free to enjoy this weekend on Steam to celebrate Elbe Day.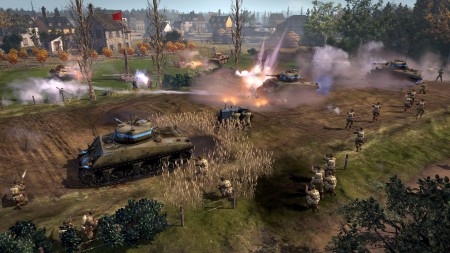 On this very day on 1945, US troops met Soviet soldiers on the Elbe river in Germany. These were some of the last days of the second great war and when the two Allied factions met, it meant that bloodshed was coming to a close and everybody was one step closer to going home… or at the very least, to a somewhat longterm (and not in the line of fire) military camp.
I actually didn't know this, but apparently Elbe Day is something of a holiday over there, so to celebrate Sega has a whole slate of upcoming events planned in and around Company of Heroes 2, its WWII-flavored RTS. First and foremost is a free weekend of play on Steam though. Starting yesterday and running through Sunday, April 27 at 1PM PDT, you'll be able to find a copy of CoH2 just sitting in your Steam library, all ready to download and play to your hear's content.
Also on tap for this weekend on the download service is a massive 66% off sale price for the game and all of its DLC. That's approaching Steam Sale levels the likes of which we only see over Christmas and at Mid-Summer, so if you're felling it and want to add this one to your collection, this is as good a time as any you armchair general you.
The Sale lasts until Monday, April 28 at 10 AM PDT- so if you want a copy on the cheap, act sooner than later.