Dark Horse will be publishing an art book based on the long-running Adult Swim show later this year.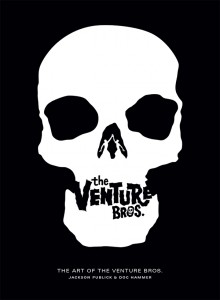 Quirky adventure cartoon The Venture Bros is a show that seems to just keep on keeping on, never really flagging in popularity with its legions of fans that tune in every week on the Cartoon Network's Adult Swim block of programming. It's probably about time then that it got the deluxe art book treatment from Dark Horse Comics, a publisher that's been making quite the name for themselves in that arena.
With books dedicated to Wolfenstein and Plants vs Zombies on the way and the incredible Hyrule Hystoria already sold out just about everywhere, Dark Horse will add The Venture Bros to its portfolio this coming October. They'll be doing this one up in style too with a promised "massive" coffee table book (but does it have fold-out legs?) that will contain "original artwork, character designs, storyboards, painted backgrounds, and props from every episode of The Venture Bros. to date, with accompanying commentary on the development of the series from cocreators Jackson Publick and Doc Hammer".
The tome will also have a special forward by writer/comic Patton Oswalt to top that whole sundae of awesome off. You can pre-order The Art of the Venture Bros right now here; the book hits stores on October 22nd.