Metal Gear Solid V: Ground Zeroes is going to be a big game. As the official prequel to The Phantom Pain, there's already a pretty massive incentive for fans of the series to grab it at release and now there's even more reason thanks to Konami announcing some exclusive DLC that'll make life in MGSV: The Phantom Pain all that much easier for Big Boss.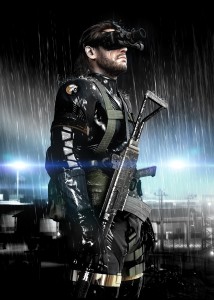 An initial batch of the new DLC will be made available to those buying either the first round of physical disc-based versions of Ground Zeroes or the digital version, which'll have the content attached for a limited time. The downloadable content gives players an advantage in The Phantom Pain with extra resources for 'Mother Base'.
Basically, you're looking at additional staffing for Big Boss' base camp in that main game, which is coming later this year. Any POW's and VIP's that you rescue in Ground Zeroes will stay on and pledge their allegiance to the Boss for The Phantom Pain. Konami says that it'll provide players with an advantage right from the jump to have a better staffed camp in TPP too, which should be music to gamers ears.
Also announced today is the iDroid (covered both bases with that name) App. This handy little piece of software is basically Ground Zeroes second screen and syncs the on-screen action with your iOS or Android device or Xbox Smartglass App, so you can do all kinds of nifty war stuff. Konami says you'll be able to call in airstrikes, show the game map and play the cassette tapes found in your search of Camp Omega using it. iDroid will be free of charge and should be available soon for your device of choice.
As for Metal Gear Solid V: Ground Zeroes, that will be available for the Xbox One and PS 4 both digitally and physically for the price of $29.99 USD on March 18th. You can also grab a copy for the PS3 or Xbox 360 on the same day for the tag of $29.99 USD as a boxed game disc and only $19.99 USD as a digital download, so a little bit of a deal there if you're willing to go digital on a 'last-ten' console.