A special tome celebrating three decades of the Teenage Mutant Ninja Turtles brings Kevin Eastman and Peter Laird back together on any Turtles book for the first time in 20 years.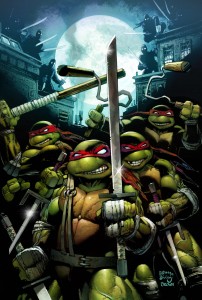 IDW knows how to throw an anniversary party. If you're a fan of the TMNT or were at any point in the past, this is going to be an issue that should go out of your way to grab a copy of.
Essentially a collection of short-stories that span the entire history and varying setting of the Teenage Mutant Ninja Turtles, the special 48 page, 30th anniversary edition of the comic will showcase work from "Dean Clarrain, Chris Allan, Gary Carlson, Frank Fosco, and Jim Lawson to IDW's own Tom Waltz and Dan Duncan". And in addition to them, you'll also be able to catch a special cover from Eastman and Laird crafted in their classic style.
"TMNT has been an important part of countless fans' lives, including myself," said series editor Bobby Curnow. "Getting the chance to celebrate this rich history is an amazing opportunity. Almost as amazing as getting to see new material from these creators again!"

"Working on the TMNT Comics with the wonderful and amazing IDW team over the last three years reminded me how much I MISSED and LOVED the four green guys." said Kevin Eastman, "getting to work with my Co-Creator Peter Laird again is the icing on the cake – and then some! It really took me back thirty years, to the earliest days, with the fondest memories, and why we got into this business in the first place."
Created back in 1984 and going through a whole mess of reinventions since, the TMNT is once again pretty much on top of the world as far as entertainment properties go. With video games, uber-popular toys, a top rated series on Nickelodeon and a new live-action film hitting theaters buy the end of the Summer. 2014 is shaping up to be the year of the Turtle and this special celebratory issue of their current comic is some serious icing on that cake.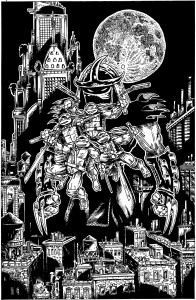 The book takes the teens in green back to their roots in more ways than one with Eastman and Laird's participation and I'm very interested to see what kind of tales the cadre of talent that IDW has brought on board for the project will have lined up. Aside from something harkening back to the original black & white comics, I'm hoping there's something in there influenced but the classic cartoon. They don't make 'em like that anymore.
No release date as of yet for this one turtle-lovers, so stay tuned. We'll share as we hear more.