Well this was unexpected. Traveller's Tales and Warner Bros Interactive Entertainment have a brand new Star Wars game on the App Store with LEGO Star Wars: Microfighters.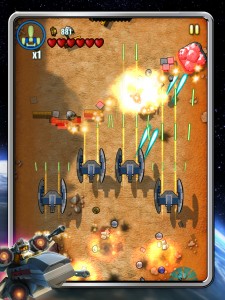 In a new move for the LEGO franchise, this mobile title features LEGO starship and fighter combat exclusively with the only minifigures around being the ones gracing the non-action scenes. Of course, just because you won't be running around planet-side doesn't mean that there's not a ton of stuff to do- this is a LEGO title after all.
Both main eras of the saga are accounted for here and you can play as the Rebels, Empire, Separatists or Republic blast through waves of enemies and generally blow up LEGOs as far as the eye can see. TT also says that the most iconic of Star Wars craft are in the game including the Millennium Falcon, X-Wing fighters and even the dreaded Star Destroyers.
It's a pretty good sized campaign too as you'll be blasting at 35 different enemy types over 18 levels. And none of the stages are generic either as they're broken up for play on some of the most famous planets in the Star Wars universe like  Endor, Yavin, Hoth and Geonosis.
LEGO Star Wars: Microfighters is available now on the Apple App Store for the iPhone, iPad and iPod Touch for just $.99 USD.