Well you had to know this was coming. Bethesda has announced that a big, bad Collector's Edition of their forthcoming MMO based in the Elder Scrolls universe is indeed on the way. But if you think this is going to be one of those CE's that just languishes on the shelves, you might have another thing coming.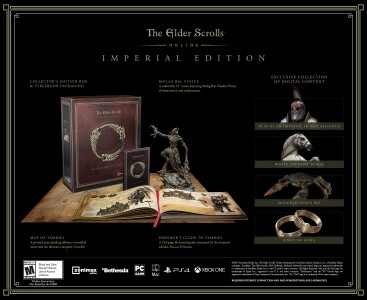 Bethesda says that the physical edition of this version of the hotly-anticipated game and next entry in the classic action/RPG series is set to be one that's not exactly plentiful in availability. The Elder Scrolls Online: Imperial Edition will be available as both a download and retail box for the PC. But while the digital release can be had by all, that nice big physical box will be "extremely limited".
Here's what you get inside and with the digital edition:
Molag Bal Statue. A 12" statue featuring Molag Bal, Daedric Prince of domination and enslavement.
The Improved Emperor's Guide to Tamriel. A 224-page illustrated guide annotated by the Imperial scholar, Flaccus Terentius.
Physical Map of Tamriel. A 21" x 26" printed map detailing Alliance-controlled zones and the ultimate conquest: Cyrodiil.  
Steelbook™ Packaging. A limited edition steel case decorated in the color of the Imperials.
Exclusive Collection of Digital Content.

Play as an Imperial: Become an Imperial and play in any Alliance. Gain unique bonuses, crafting styles, gear, and more.
White Imperial Horse: Summon this Imperial mount and journey through Tamriel with speed.
Mudcrab Vanity Pet: Explore Tamriel with a mudcrab pet scuttling along by your side.
Rings of Mara: Complete the Ritual of Mara with a friend and receive an experience bonus when you play together.
The digital content comes with both versions, while all the real-world goodies are (obviously) only included in that box at your local store. If you can find one. Bethesda warns that it's probably best to preorder the Imperial Edition if you're serious about procuring one for your trophy collection.
If bought digitally, the Imperial Edition will run you $79.99 USD, while a physical purchase will cost $99.99 USD- which all thing's considered isn't all that much more for a ton of content. If you're a huge Elder Scrolls fan, that might be the way to go.
Now if you pre-purchase either, or even the 'standard' edition for that matter, you're in titled to some more love from the publisher. You'll find your virtual bag of holding laden with The Explorer's Pack for plunking your cash down on any version before it launches.
Included in there is "Scuttler vanity pet, four bonus treasure maps, and the ability to play as any of the nine races in any Alliance". That's pretty nice just for ordering a game that you're going to be getting anyway, but as they say on TV- that's not all!
If you pre-purchase either the standard or Imperial version digitally (sorry box fans), you'll also get a five day head-start on everybody else as you'll get an early access pass. This perk is so far only announced to be available on purchases made through the Elder Scrolls Online Store, but Bethesda says that there are other early access programs coming out of other retailers, so you might want to hunt around if you're interested in that.
The Elder Scrolls Online (both Imperial and standard editions) will be available for the PC and Mac on April 4th. Xbox One and PS4 versions are not he way as well and will be hitting retail shelves sometime this June.