Dark Horse Comics has announced that the Academy Award winner's complete Pariah web-series has been collected and is available right now with more on the way.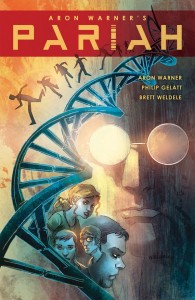 Author and producer Aron Warner won an Academy Award for Shrek and loads of critical praise for Pariah.
In Pariah, genetically engineered geniuses known as vitros are labeled a terrorist cell after an explosion at a military weapons lab. The vitros are rounded up and left on a decrepit satellite orbiting Earth. Now they must band together and use their supergenius abilities to get back to Earth safely.
The book, which is written by Warner and Philip Gelatt and with art by Brett Weldele, is on the shelves right now and collects the full first volume of the story that originally ran online only. If you missed the webcomic original 'printing' of Pariah, then this is where you're going to want to start as it'll lay the foundation for the story. It's also the tome that was so highly rated and gained the fans that drove Pariah over to Dark Horse in the first place.
From there though, Dark Horse has announced that there will indeed be at least one additional story based in Warner and Gelatt's world. Starting in February, an eight issue miniseries will kick off to that end. There isn't much on that one as of yet in terms of story, but if you like the first installment it's probably a safe bet.
You can catch that first issue of the mini with Pariah #1 on February 26th. As for the webcomic collection, that's available right now both physically and digitally.