Marvel and the New York Daily News make it official- the Doc Ock as Spider-Man era is over.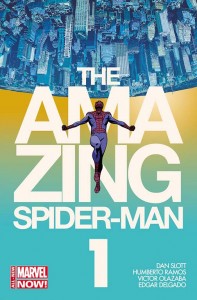 …or rather, it will be over when The Amazing Spider-Man #1 hits the racks this coming April. Writer Dan Slott, who drew the ire of Spidey fans a-plenty (me included) since 'killing off' Peter Parker by swapping his mind with the dying Doctor Octopus' and ushering in the age of the Superior Spider-Man, explained to the New York Daily News that although he knew all along how the lengthy storyline would play out in the end- mum was the word. Slott actually told the newspaper that keeping the secret tore him up at times, especially when he had to tell a young fan a comic con that his hero was gone for good. …That's cold Dan.
Chilly though that might have been, Spider-Man -the real Spider-Man- will indeed be making his long awaited return to the Marvel Universe in just a few issues time. There isn't much info about exactly when the big change will happen (though you should probably keep looking towards the Superior Spider-Man book for that) or how it will happen, but Slott did tell the News one very interesting little tidbit that you can chew on while you wait for the re-debut of one of the world's best loved superheroes: Yes, Peter Parker will be back, but there's going to be a "twist" too.
Teased throughout the entire run of The Superior Spider-Man, written by Dan Slott (The Mighty Avengers, She-Hulk), Peter's presence never quite left his body and is now set to regain control and show the world who Spider-Man is – and no one could be more excited than Dan Slott himself. "I've been a Spider-Man fan since I was eight years old. Of COURSE I want to see Peter back! He is the one, true Spider-Man," says Slott.

With Peter Parker swinging back into action in AMAZING SPIDER-MAN #1, Slott, including fan-favorite artist Humberto Ramos (The Spectacular Spider-Man, Pete Parker: Spider-Man), are returning readers to intense and highly kinetic web-slinging action. Senior Editor, Stephen Wacker says, "The entire creative team is incredibly excited to bring readers the next stage in Spider-Man's life. And I can promise you that the plans for AMAZING SPIDER-MAN, over the next year, will be the biggest Spidey epic yet!"

However, the question on everyone's mind has not been the "when", but the "how" Peter Parker returns from the dead and Slott is quick to tease just that. "In a strange and terrifying way. And… possibly… at a very great cost. Remember, nothing is ever easy for Peter Parker. It's one of the reasons he's a true hero," says Slott.
And with the way that Ock has turned Pete's life upside down in his mental-absence, that could be just about anything. Stay tuned true-believers- and mark your calendars for this April.