If there's one thing that the newest game in the Skylanders series was missing, it was a little Christmas cheer.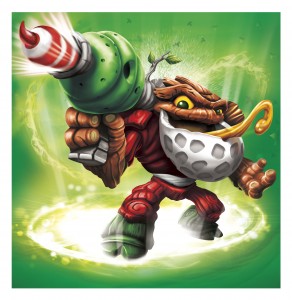 Enter Jolly Bumble Blast.
No other Skylander celebrates the holiday season quite like Bumble Blast. Every year, the magical bees that are under his protection decorate their mighty tree hero in wonderful festive colors. Then Bumble Blast makes it his mission to spread the cheer by blasting enchanted peppermint at anyone in need of a little holiday spirit. After all, 'tis the season to be jolly!
Activision's Skylanders brand is easily one of the hottest properties in gaming right now and Jolly Bumble Blast here would probably feel right at home nestled securely in more than a few stockings this Holiday Season. True he, like the other specially-themed Skylanders characters out there, doesn't have any specific powers and abilities that the standard Bumble Blast doesn't already make use of, but he's dressed up like Santa for goodness sake!
And what fan of the toys-to-life series could pass that up?
Jolly Bumble Blast is available now to bring a little Christmas magic to your copy of Skylanders SWAP Force.