Check out the little guys in packaged form so you know what you're looking for on shelves next month.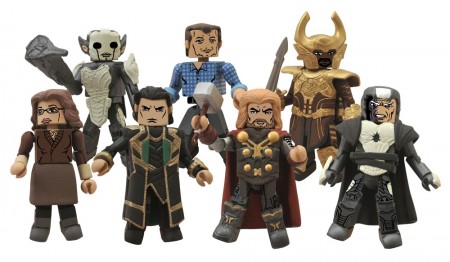 The film has just hit theaters (to some fan acclaim and a pretty impressive opening weekend) and Diamond Select Toys has their first set of Minimates based on the characters featured in Thor: The Dark World ready for shipping. Making up the set are a bunch of the major players from the film including Thor (duh), Malekith, Loki, Heimdall and some Dark Elves.
If you're a Minimate fan, these are some that you probably don't want to miss. You'll find them at comic and specialty stores next month (December) – note that Diamond made a special point of telling us that you can't get these guys in Toys R Us stores. There's usually some kind of Minimate offering at TRU's to compliment the comic shop series', but that's not the case this time, so keep that in mind when you go hunting for them.