Fresh from a 'design a weapon' contest comes a multi-barrel, bicycle-parts using shotgun.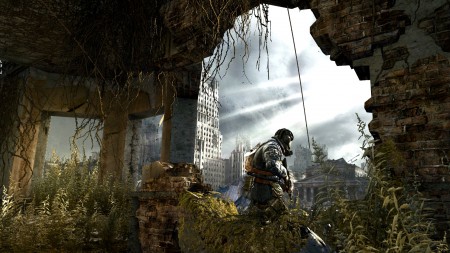 Website GamePlanet issued a challenge to developer 4A Games; make an in-game weapon out of our contest winner's design. Now, that might sound like not such a big deal, but there are two things to consider before you pass judgement- number one, this is 4A's Metro we're talking about here. That means that the weapon couldn't be a 'fantasy' sidearm and actually has to function in the real world, like the rest of Metro's handmade arsenal could. And number two? The gun in question is a shotgun that sports multiple barrels and is made using recycled bicycle parts. Yep.
And yet, with even that, the team at 4A managed to make the oddball weapon a reality as a part of the Developer Pack of DLC that's available now.
"When we saw Alexandre's winning design, and GamePlanet's mock challenge to 4A Games we knew we had to try and make this happen,"" said Huw Beynon, Global Brand Manager for Metro: Last Light at Deep Silver, the game's publisher. ""4A Games spent many hours making this design a reality, with all the care and dedication they afforded their own designs.""

"Alexandre's concept for the Bicycle Shotgun was the perfect blueprint for our weapon designers." said Andrew Prokhorov, Creative Director and co-founder at 4A Games. "When we first saw his design, we immediately saw the potential – it is a fitting addition to the Metro arsenal, and the team enjoyed the challenge of bringing it to life it in-game."
The Developer Pack (bicycle shotgun and all) is available now to add onto your Xbox 360, PS3 or PC copy of Metro: Last Light. If you'd like a look at just what went into making the new gun and adding it to the game, click here and head over to GamePlanet's site.