Inafune has been a busy man lately, and so have his fans. The Mighty No. 9's main twitter page has been buzzing with activity; check out the new desktop image they've been working on.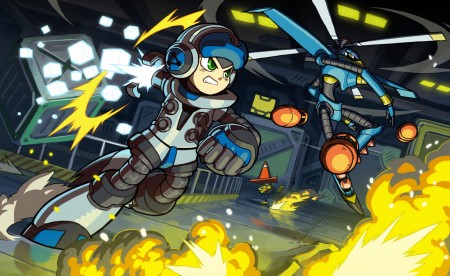 As some of you may or may not know, The Mighty No. 9 is a sidescrolling action game that pays homage to 8 bit and 16 bit games, which shares a striking similarity to the Megaman universe. The creator of Megaman, Keiji Inafune and his team put this twitter page up to involve his fans in the process of helping to create the game alongside him, and so far it seems to be a real success. Plenty of tweets have already surfaced, with several of neat creations, as well as some of Inafune's own work too.
From the looks of it, Inafune appears to be very receptive to the opinions of others as well, as he responds to a great deal of tweets that are sent to the page. In the short time that he added it, he has interacted with several users. This a one on one process that wasn't as prevalent in the video game industry many years ago. Imagine telling a Megaman fan in the 1990s that they would get to speak to Inafune personally, and offer their opinions on how the next Megaman game should be made. They would be in sheer disbelief, elated even. The fact that it can be done so easily, and that a developer of his talent is now accessible in this way, is truly remarkable.  It will be interesting to see how this project unfolds, and what the fans as well as Inafune can bring to the Mighty No. 9.