Band Avenged Sevenfold and superstar comics artist Alex Ross help to usher in the last dlc pack for Activision and Treyarch's uber-popular shooter.
"We have been going hard at it all year, supporting the game, and delivering new content and experiences for fans, and Apocalypse is the perfect conclusion to the Black Ops II season of content," said Mark Lamia, Studio Head for the developer Treyarch. "Multiplayer fans have it all with this one, and Origins will yet again set a new bar for Zombies."
Developer Treyarch has really been going at these expansions full bore. The sheer amount of content that they've delivered is one thing, but the zombies maps that've coming packed in with the standard maps and weaponry have been super impressive. Unlike the rest though, this pack's map doesn't feature Hollywood voice-talent or likenesses- this one's all about the horrific beginnings of the Call of Duty universe's zombie infestation with a map that Activision promises "closes this chapter of the Zombies story arch for Call of Duty: Black Ops II."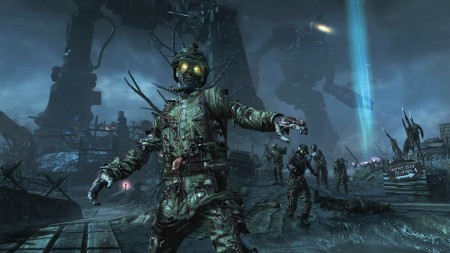 The music that you heard in the trailer is actually Avenged Sevenfold's "Shepherd of Fire" from their just released album, "Hail to the King". If you're a horror fan in any way, then you probably get the reference there too, even if it might be of the unintentional variety. As for Alex Ross' evolvement; the four returning characters in the map are none other than Tank, Nikolai, Takeo, and Richtofen. You might remember them from the very first Zombies map featured in Treyarch's Call of Duty: World at War. Ross has re-envisioned the quartet for the new look at the classic start of the Call of Duty zombies phenomenon.
As for the other maps in the set, while they're not as 'different' and the diesel-punk zombies "Origins" map, they're all wildly unique and should present a varied and visually impressive array of arenas for players to have at each other in.
Here's your rundown:
Pod: A failed utopian community from the 70's has left stacks of dilapidated residential pods nestled into an abandoned cliff side in Taiwan. Its residents long gone, the modernist compound now hosts frenetic combat as players must run atop the pods, as well as navigate their multi-tiered interiors for a strategic edge.

Frost: Fresh snow meets explosive gunpowder in this snow-capped European city, where the bridge over a frozen canal separates it into two sides, requiring players to employ multi-level strategies as they traverse the terrain in order to outsmart, and ultimately outshoot their enemies.

Takeoff: Fans of "Stadium" from the original Call of Duty®: Black Ops First Strike DLC will find themselves at home on "Takeoff." Marooned in the middle of the Pacific Ocean, this remote launch site is all about close-quarters combat, combining tight corners with open spaces for intense encounters.

Dig: An adaptation of the fan-favorite "Courtyard" from Call of Duty: World at War, where two archeological dig sites in Afghanistan become the perfect playground for combatants eager for hectic, unceasing confrontations. Treyarch, has retained the spirit of "Courtyard" with two major chokepoints and a wide open layout with raised platforms, but has also provided fans with a fresh take by including a multitude of pathways.
Call of Duty: Black Ops II – Apocalypse map pack is available now on Xbox Live for $14.99 with other versions to follow.