Author Steve Niles' Criminal Macabre (from Dark Horse Comics) crosses over with his classic vampire tale, 30 Days of Night from IDW. The result is one monster event called FInal Night filled with lasting effects for both series'.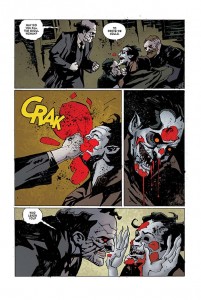 I'm a relative newbie to both Criminal Macabre and 30 Days of Night, so I wasn't too sure what to expect from Final Night. This crossover graphic novel (originally a miniseries) harkens back to the glory days of the inter-company crossover with Criminal Macabre's world of L.A. Ghouls getting invaded by 30 Days of Night's ravenous vampires.
Though they're from different publishers, both works come from the inventive and just a little bit twisted mind of Steve Niles. Both take place in the same universe too, with vamps, ghouls and all manner of nasties running about.
The main story involves 30 Days' main villain Eben, who basically has become a self-styled king of the vampires. He's come down from Alaska to lead a horde of bloodsuckers into Los Angeles, lay waste to it and hopefully recover the ashes of his murdered (vampire) wife in an attempt to bring her back to the land of the living. Along the way, he looks to take vengeance on the federal agent who killed her and slaughter everyone in his way- be they human or otherwise. There's only one problem, he didn't count on Cal McDonald and his Ghoul pals.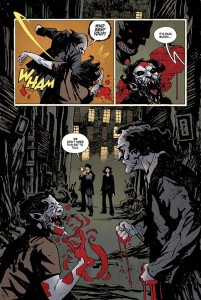 Cal is the 'hero' of this one and is the main character from Criminal Macabre. He's a smart-mouthed, chain-smoking, big-drinking detective who follows cases of the supernatural sort. He also hangs out with a bunch of Ghouls, undead creatures who have sworn to stand with the living against the rising tide of the otherworldly.
Eben isn't the only thing on Cal's mind though as he's suffering form a strange affliction, the cause of which he knows all too well. And that's one of the things I loved most about this book- it's not in any way a one-off story that exists out in the ether somewhere. All the events of Final Night are in canon and very much affect both plotlines of Niles' works.
There's a gigantic revelation at the turning point of the story that I can only imagine deeply affects the storyline of CM as well as the death of a major character that holds heavy for the undead of 30 Days of Night. This kind of a thing rarely (if ever) happens- major developments for characters (in a crossover) who exist in the same comic universe but who come from different publishers? When's the last time you heard of something like that? Right.
Everything about Final Night is enjoyable too and the main characters are as compelling as can be. Niles' writing perfectly captures the unrelenting Eben and casts him as a man who's lost everything and doesn't care about very little. And Cal? Well, let's just say that Criminal Macabre just got a new reader.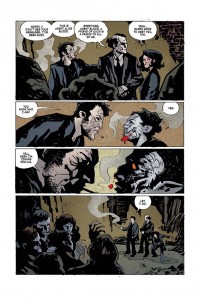 McDonald is one of the most likable characters in comics today- period. Steve Niles has crafted a character in McDonald that's smart, funny and has liberal amounts of two-fisted, gritty attitude. He's almost like a detective from an old time film transplanted into a modern action/horror setting. Great stuff.
Also great is the artwork of Christopher Mitten. Mitten's style is edgy, rough and perfectly fitting for a story like Final Night's. Blood and guts fans will find plenty to like in the book (not that it's anything too shocking), but so will fans of more subtile horror.
Seeing a menagerie of silent vamps emerge and swarm over private homes, then seeing the eruptions of violence only through the windows, is a chilling sight and a very effective one. Final Night does a masterful job of mixing horror types and 'feels' into something that pretty much any fan of the genre in any form should seriously dig.
Actually, even if you don't like the genre you might dig it- I did.
Final Thoughts
Criminal Macabre: Final Night – The 30 Days of Night Crossover is a must read for fans of either comic. The ramifications for both books involved in this excellently done crossover are massive and, once again, rare to see in something like this.
The only thing that kind of struck me as 'off' (other than the vampires and ghouls that is) was the ending. I'm certainly not going to spoil anything here, but I would have liked to have seen a little more to it. The climax of the main tale is satisfying enough, but there's little closure after the fact and that kind of left me wanting more. Whether that's a bad thing or not is up to you.
If you like Criminal Macabre, 30 Days of Night, vampires, detective noire, or supernatural horror in any way- then you really should read this book. It's that good.