Diamond Select Toys has a trio of cool collectibles in stores this week for fans of The Walking Dead, Star Trek and Iron Man's partner in blasting things- War Machine.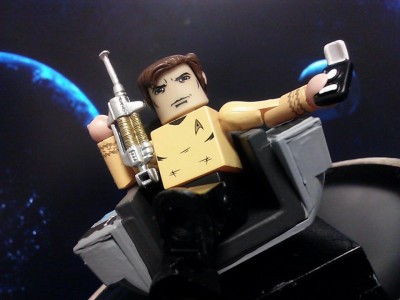 DST rarely disappoints in making fans happy and this week they've got a trio of cool items to show off for fans of three of the biggest properties out there right now.
The Minimate Captain Kirk and the Enterprise set has been a long time coming and as a fan of Trek in any form, I couldn't be happier to finally see it warping its way to stores. Other than the good Captain, this week also sees the arrival of one of Michonne's personal walkers from The Walking Dead in bank form (nobody's gonna take your dough from this thing) and finally, we get War Machine, who's a part of Diamond's excellent Marvel Select series. If you're an Iron Man fan, you probably don't want to miss Rhodey.
Star Trek: The Original Series U.S.S. Enterprise Minimates Vehicle

After a long absence, DST has brought back Star Trek Minimates, but they're not alone. This time, they're coming out alongside the most spectacular Minimates vehicle yet — the starship Enterprise! With an opening bridge dome, a removable command chair and a hidden Jefferies tube in the engineering section, the ship measures 10 inches long and has an adjustable display base. Includes an exclusive Minimate of Captain Kirk, with phaser, phaser rifle and communicator accessories. Designed and sculpted by Art Asylum! (SRP: $29.99)

Marvel Select Iron Man 3 Movie War Machine Figure

The War Machine armor just got an upgrade! Piloted by Tony Stark's longtime confidant James "Rhodey" Rhodes, War Machine is an even more heavily armed version of the Iron man armor, and while Iron Man 3 saw the suit get a new red, white and blue paint job, DST is putting him out in his classic grey color scheme! This highly detailed Select figure stands over 7 inches tall, features 16 points of articulation and comes with an armor bay display base, all packaged on a collector-friendly Select-style blister card. Designed and sculpted by Gentle Giant! (SRP: $24.99)

Walking Dead Pet Zombie Vinyl Bust Bank

DST's popular line of Walking Dead bust banks is adding another walker to its zombie horde! Based on one of Michonne's chained pet walkers, this zombie measure 8 inches tall atop the famous Walking Dead logo, and is crafted in durable vinyl with a slot in the back for your loose change. This bank features detailed sculpting and paint applications, making it not just a cool bank, but an amazing bust, as well! Sculpted by Eli Livingston! (SRP: $22.99)
Jason's been knee deep in videogames since he was but a lad. Cutting his teeth on the pixely glory that was the Atari 2600, he's been hack'n'slashing and shoot'em'uping ever since. Mainly an FPS and action guy, Jason enjoys the occasional well crafted title from every genre.