DST announced their newest Comic Con exclusive today with the Star Wars R2-B1 banking droid.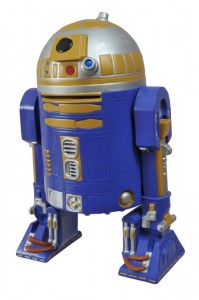 Okay, so maybe it's not actually a banking droid per say… if you want to get technical, R2-B1 here is an astromech droid most commonly used as a 'co-pilot' in small craft like the X-Wing fighter. Even with that (I'm sure) fine service record though, R2 has another function and it might be of way more use to you than the space plane thing- he's a bank.
This little guy is just the latest droid to join Diamond Select Toys' series of astromech droid banks from the Star Wars universe. Following in the treadmarks of such luminaries as R2-D2, R2-R9 and R2-Q5, R2-B1 is more then likely on the way to being a highly collectable droid.
That's because he's a San Diego Comic Con exclusive from DST. And if you're unfamiliar with SDCC exclusive anything, then please be advised that it sells out. Fast.
As for R2-B1, you won't find him on the Royal Starship of Naboo (where he appeared in the prequel film), but he will be at the DST booth, which is #2607 on the show floor at next month's San Diego Comic Con. He's limited to only 1500 pieces (and with a Star Wars collectible, that number won't last) and priced at $23.00 USD – so get there early and may the force be with you. …sorry.
Jason's been knee deep in videogames since he was but a lad. Cutting his teeth on the pixely glory that was the Atari 2600, he's been hack'n'slashing and shoot'em'uping ever since. Mainly an FPS and action guy, Jason enjoys the occasional well crafted title from every genre.