The Farm 51's newest will debut this Fall with 'survival co-op' mode.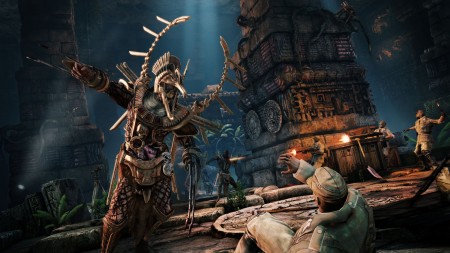 Deadfall Adventures was announced a while and I was pretty impressed with what I saw from veteran developer The Farm 51 and Nordic Games. The FPS is a kind of Indiana Jones-esque feel and takes place in a "long-forgotten temple complex". To make a long story short- there are Nazi's, ties to Atlantis and a two-fisted adventurer at the center of it all.
Along with the single player campaign and the obligatory multiplayer mode, Deadfall Adventures will also feature the just announced co-op survival mode. The new option is somewhat mysterious at this point, but I imagine it'll probably involve cooperative play. And surviving… something.
"Adding the new survival cooperation mode adds even more content to the game which is always going to be a bonus for players," said Wojciech Pazdur Development Director at Farm 51. "The new mode will be both challenging and engaging and players will be able to jump straight into the game toget the best of the action."
Fortunately, not leaving any room at all for confusion is release date for Deadfall Adventures. You can expect to see the game arrive on the Xbox 360 and PC this September the 27th. That's a little later than Nordic Games would have liked, but according to company representative  Reinhard Pollice, "Holding back the game's release until September is the right decision for us to ensure that the content included offers the greatest value for players, which it certainly will."