A season pass and still more fighters unveiled for NetherRealm's one on one fighting take on a DC Universe gone mad in Injustice: Gods Among Us.
The Season Pass was probably a foregone conclusion for fans, as so many games have one. This Season  Pass has a little something extra though- while is does contain the usual trappings of paying for the game's periodic DLC up front (and getting a small discount for doing it), Injustice's Pass also includes access to a special four pack of skins from the Flash Point storyline for the game.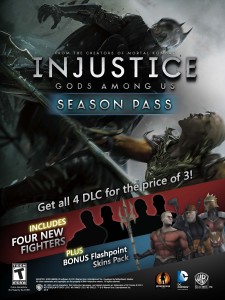 Fans of DC Comics will recognize Flash Point as the tale that transformed the DC Universe from its more classic form into the New 52 Universe that you see today. The Flash Point pack includes alternate costumes for Wonder Woman, Aquaman and Deathstroke.
The Season Pass will be available right along with the game on April 16th it'll cost you 1200mspts on Xbox Live or $14.99 on the PSN. No Wii U version is available at launch.
Also just announced are a new pair of fighters that'll be on the game's launch day roster- Black Adam and Raven. Raven is a former Teen Titan having teamed with the likes of Robin/Nightwing, Cyborg, and Wonder Girl in the past while Black Adam is one of the most powerful villains/anti-heroes in the DCU and a long time opponent of Captain Marvel (now called Shazam in the New 52).
We've got some screens of Black Adam below, but Raven fans are in for a treat as we have a video of the nocturnal hero in action against Catwoman.
Injustice: Gods Among Us will be available on April 16th for the Xbox 360, PS3, and Wii U. If you're going to be at PAX East in Boston this coming weekend (it starts on Friday the 22nd), make sure you stop by the game's display as it'll be available for you go hands on with.