Studio Ghibli, arguably one of the world's most consistently successful and beloved animation houses, have announced that they are releasing not one, but two features in 2013!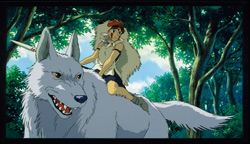 The Japanese studio, Asia's answer to Disney, was formed in 1985 by animators Hayao Miyazaki and Isao Takahata.   It's best known for animated classics such as Grave Of The Fireflies, My Neighbor Totoro, Porco Rosso, Spirited Away and Howl's Moving Castle among many others.
Both of the company's founders will be each helming one of the releases.  This is great news to hear as the legendary Miyazaki hasn't been in the director's chair since 2008's Ponyo, while Takahata has been away since My Neighbors The Yamadas in 1999.   The Miyazaki project will not only be directed by the great man, but was written by him also.  The Wind Is Rising is the story of Jir Horikoshi, the lead designer of the Mitsubishi A6M Zero aeroplane.  This is set to be an interesting watch, especially for those in the West, as the fighter went on to become Japan's principal method of warfare among the clouds in WWII.
The other Ghibli release is in a very different vein entirely.  The Tale Of Princess Kaguya was also co-written by its director Takahata, and will be a far more whimsical prospect than his partners offering.  The film is based on one of Japan's oldest folk tales 'The Tale Of The Bamboo Cutter'.   The 10th Century yarn follows a young girl, Kaguya-hime, who was found one day as an infant growing inside of a bamboo stalk.
Whatever the subject matter, Studio Ghibli always deliver films that are both beautiful to behold and hugely enjoyable to watch.  In the hands of the studio's two grand masters it is very doubtful that the movies will not deliver on every level.  Unfortunately, the 2013 release date is only in their native Japan.  Though we in the West will eventually receive both animated movies, it has not been disclosed when.   Let's just hope it won't be too long!
By Chris Spence

Follow Chris on Twitter @TheRetroSamurai and check out his blog and assorted musings at filmandmoviehotspot.blogspot.com