Hands down, this is one of the coolest looking 'stands' I think I've ever seen. Lethal Protection wants to pair a little sci-fi with your tablet/smartphone/mobile device.
As far as stands go, the Life-Phorm really does make a pretty awesome looking companion to pretty much anything. And that's probably expecially true if you're a science fiction fan.
The Life-Phorm is a pretty much all in one mounting system that looks like it'd work with almost anything. As the press release points out, this little guy can even hang onto a Wii U pad for you- and I have to say, it looks pretty snappy doing it.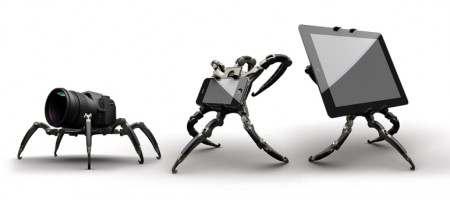 Here's your feature set:
Amazing strength to weight ratio
Adjustable clamping system
Rubber grips for comfort and stability
Multi-positioning legs
Crafted of high-quality materials; the clamps are made with an unearthly proprietary rubber and powder-coated metal.
Alien-looking, but not a carnivore!
Will protect your new iPhone 5, iPad, iPad mini, Galaxy Note 2, Nexus 7, etc like a mother protects its cub (or squidling)
The Life-Phorm is available now on Amazon.com and will cost you $69.99 USD. Check out more here.