Pee-Wee's Playhouse is a legendary kids show, and now will have a fresh lineup of products from collectible maker NECA.
What's the word of the day?
Today's secret word is 'Playhouse', as in "Pee-Wee's Playhouse" of course. Though the headlining actor (Paul Reubens) is recently departed, the iconic 80s children's property certainly still lives on in the hearts of fans, who well remember its original 5 season's of way-out fun.
Pee-wee's Playhouse ran Saturday mornings from 1986-1990 and introduced fans to a surreal, colorful, adventurous world inhabited by Pee-wee Herman. With frequent celebrity appearances and musical performances, the series holds a special place in the hearts of the many who grew up watching Pee-wee, Pterri, Chairry, Globey, Jambi, Randy, Cowboy Curtis, and a wide cast of eclectic characters.

NECA press release
While the show itself is oddly absent from streaming services today, NECA will be bringing it back in a way. The company revealed the first pieces from what will be a brand new line this week, at the International Toy Fair in NY. And as you'll see, it's a line with a heck of a pedigree.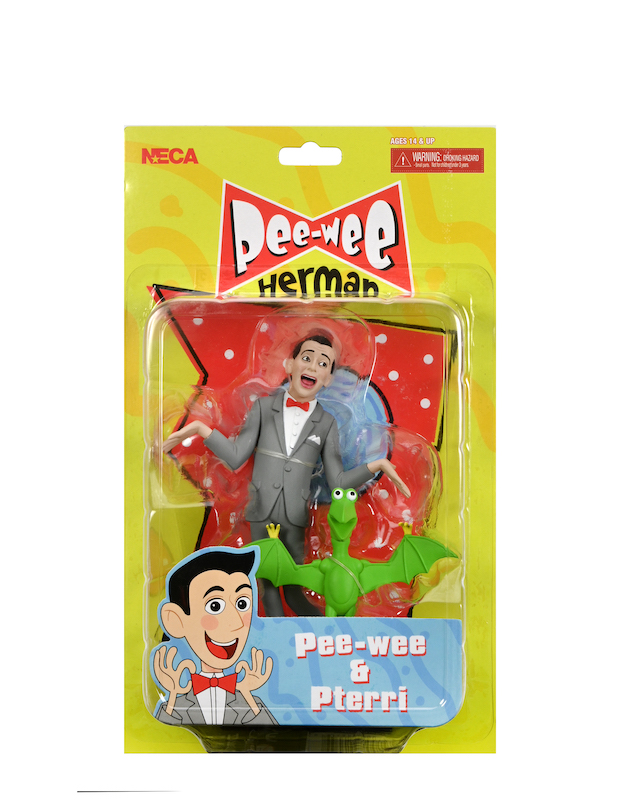 Pee-Wee himself, Paul Reubens was involved directly in the creative direction for what's coming up, as NECA has been working on all of this new merchandise since 2022. This is going to be a really wide-ranging line too, with more than a handful of form factors.
While there will be figurines (in the Tooney style), there'll also be Head-Knockers and Chia Pets (from Joseph Enterprises), and "vinyl mini figures, enamel pins, larger premium plushes and other art pieces", plus Pee-wee and Chairry "premium Phunny plushes" from KidRobot. So if you have a Pee-Wee-sized space in your own collection, make sure you keep an eye out, because the above will be hitting retail soon.