You might not associate horror and Marvel's future time of 2099, but that's just what'll be kicking off the new year.
Horror? Really?
It's kind of odd to see Marvel's 2099, in any form, associated with a horror theme. The future of the Marvel Universe is many things, including cyberpunk and massively dystopic, but scary isn't even remotely something that it's ever been… unless you count Hulk.
As you can see though, that's going to change in 2024. The publisher will kick off the year with a Spider-Man 2099 mini-series, which essentially sounds like a series of loosely connected one-shots. Though each issue will share a common theme, the stories will all be different, and reintroduce a staple Marvel monster, along with a few superheroes for good measure.
Here's what you can expect from the run: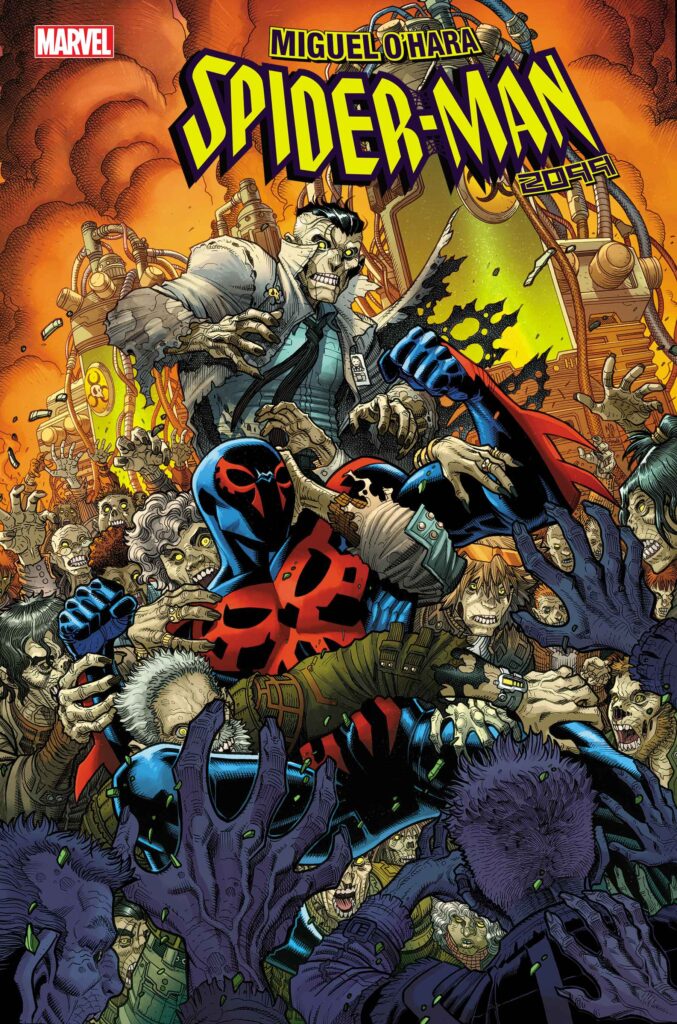 BEWARE – MARVEL ZOMBIE: 2099! In MIGUEL O'HARA – SPIDER-MAN 2099 #1, Steve Orlando and artist Devmalya Pramanik kick things off with the introduction of the MARVEL ZOMBIE of 2099, as Miguel O'Hara teams up with BLADE 2099 to take on this horrific new threat to Nueva York. Behold the Marvel Zombie of 2099! He lives! He strikes! And no spider can hold him! Will Spider-Man be able to stop the ever-evolving zombie infection before it takes hold of his mother and the citizens of the Barrio?
BEWARE – THE LUNAR TOMB OF DRACULA! In MIGUEL O'HARA – SPIDER-MAN 2099 #2, Orlando and Michael Dowling bring back Dracula!The moon is under attack, and Spider-Man must team up with Moon Knight 2099 to save it. And our celestial web-slinger is going to need some new armor to get through it all!
BEWARE – WEREWOLF UNLEASHED! In MIGUEL O'HARA – SPIDER-MAN 2099 #3, Orlando and artist Jason Muhr deliver an over-the-top Monster Mash for the 100th legacy issue of Spider-Man 2099. Cursed by blood — it's WEREWOLF BY 2099! Spider-Man must take on this new cursed soul in a no-holds-barred battle!
BEWARE – TOMORROW'S TERROR INCORPORTED! In MIGUEL O'HARA – SPIDER-MAN 2099 #4, Orlando and artist Chris Campana bring Terror back to his horrific roots. Spider-Man must go up against THE NEW TERROR INC. and body parts will fly! Can Spider-Man get Terror to finally change his ways? 
BEWARE – REBIRTH OF THE MAN-THING! In MIGUEL O'HARA – SPIDER-MAN 2099 #5, Orlando and artist Stefano Raffaele introduce 2099's version of Man-Thing when Spider-Man must find a way to save the lives (and data) of the people of Nueva York from the monster's burning touch! What does this new shambling monstrosity mean for the future of Nueva York? Also featuring the return of the Specialist!
Written by Steve Orlando and with covers from Nick Bradshaw, Miguel O'Hara – Spider-Man 2099 will feature a different artist per issue. That roster includes Devmalya Pramanik, Michael Dowling, Jason Muhr, Chris Campana, And Stefano Raffaele.
Look for issuer #1 to hit stands on January 3rd, 2023.