Fall and winter will bring a fews set of updates and challenges to Techland's post-apocalyptic zombie epic, Dying Light 2.
Cold fear
A beast of an open-world action title at launch, 2021's Dying Light 2 is still very much rolling with new and expanded content. Techland unveiled what the fall/winter season will bring today, and it's just as chock full of stuff to do as past drops. Actually, maybe a little more so.
The fall and winter content will include something called Tower Raid, and that's a direct result of community requests. While it might not sound like it from the name, Tower Raid is a dungeon raid, which Techland says comes from repeated requests. Not that it's just a mode that's coming up.
Updates to come will bring new enemies and traditional weapons, plus fresh cosmetics. Oh, and did we mention there'll also be some firepower added into the Dying Light mix?
Over the next couple of months, players can expect a variety of new features including new missions and activities such as the co-op oriented Tower Raid, an answer to the community's request for dungeon-type raids. New enemy variants, weapon repair, more free outfits as well as knives and polearm weapons are also in development, among other additions. Last but not least: to give players even more destruction tools, Techland will introduce firearms to Dying Light 2 Stay Human, as another creative way of dispatching enemies.

Techland press release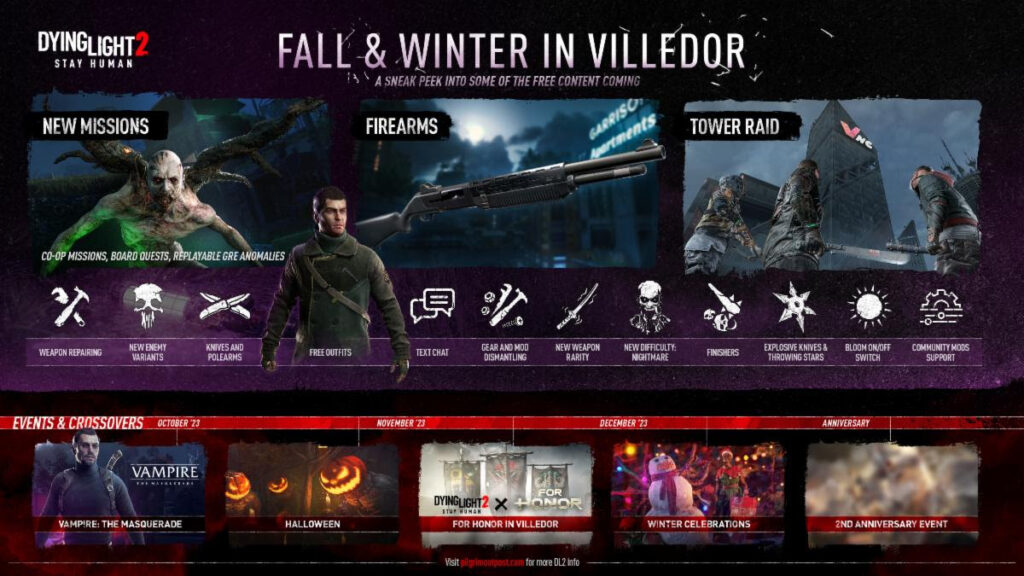 Crossovers too
Dying Light 2 has a bit of a history with crossovers, as go other games, and this upcoming period will follow suit in that regard. Fans can expect to see events centered on Vampire: The Masquerade, as well as Ubisoft's For Honor.
The calendar would not be complete without crossovers and in-game events. This October, Villedor will welcome bloodthirsty Kindred from Vampire: The Masquerade, and will continue the descent into the spooky season with the Halloween event. Next, players can expect a crossover with Ubisoft's For Honor, and we'll cap the year off with a winter celebration.

Techland press release
So if you're still playing Dying Light 2: Stay Human regularly, get ready for lots more to do, and if you've since dipped out, maybe it's time to fire up your copy again.